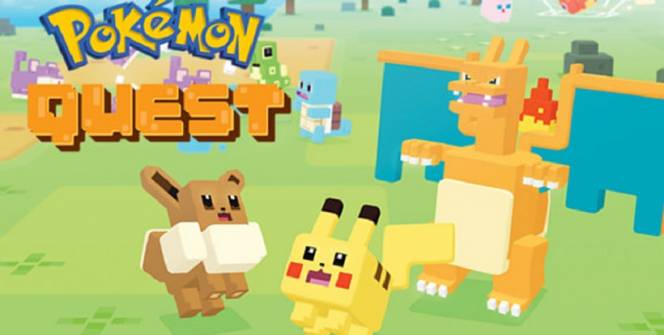 Pokemon Quest for Windows 7/8/8.1/10/XP/Vista/MAC OS/Laptop
Pokemon Quest for PC is a fun RPG that was originally released for the Nintendo Switch but is now making in-roads into the mobile gaming space. Developed by Game Freak, it isn't much more than another addition to the massive world of Pokemon games.
Gameplay
Gameplay in Pokemon Quest is a mixture of passive gameplay and tap-driven battles. The majority of your time in this game will be split between base camp where you train your Pokemon and interact with new friends, and exploring the island as you look for adventure. A timer limits how long you can play therefore if you want to engage in fights then you better have a full energy meter.
The basics of any Pokemon game are in Pokemon Quest i.e. you need to catch as many as you can, but the mechanics for doing it are slightly different. For example, in order to fill up your roster with new Pokemon you will need to lure then in with cooked food rather than just beating them until they're unconscious then trapping them in a ball.
How effective you are at catching these Pokemon will depend on your skills as a chef. You'll find new recipes as you explore the island and learn to make things that are described as hard and small or soft and sweet depending on which ingredients you use. Different recipes will work to attract different types of Pokemon.
This new system may not appeal to fans of old however it works well for the Pokemon in this game. Most of them are small cute things that you want to pet therefore the violence involved in the usual 'Gotta catch 'em all' model would have been overkill. You can still use them to fight battles however the fights are nothing special.
Once you have your Pokemon loaded up then you are able to customize them. Power Stones earned from successful battles are used to upgrade their health and attack power. Special stones upgrade their special moves in a precise manner and you can swap them out to suit your needs.
The battles start by sending your little monsters out on expeditions. Once they approach a wild Pokemon then the battles starts once you press a button to interact but that's all that you will do when it comes to battle. The battle themselves usually pan out on Auto and you have some say in how your Pokemon fight but your actions make very little difference to the outcome.
The Good
The Pokemon are cute and the blocked design keeps you from taking the game too seriously.
The Bad
It is not optimized for long stretches of play due to a restrictive energy meter.
In-app purchases are rife in this game and if you use them then you'll probably clear the game pretty fast.
Conclusion
The Pokemon are adorable and parents will like how Pokemon Quest has taken some of the emphasis off of random violence however there is not much going on in this game and it will struggle to hold your attention.
How To Play/Download Pokemon Quest on PC
Follow the instructions below, it's really easy and it takes about 5-10 minutes to run the game.
Download Bluestacks from their official site
Run and Install it
Open the bluestacks app and setup your Google Play Store with your gmail, sometime it asks for phone verification
After that search for "Pokemon Quest"
Click the Install button next to game icon
When it's done, you can find and play Pokemon Quest in "All Apps" or in "My Applications" sections
Download Pokemon Quest for Mobile and Tablet Devices
Google Play Store Link
Apple App Store Link
Nintendo Switch Link
Pokemon Quest Trailer
More Pokemon Quest Tips Using Bluestacks
If Bluestacks don't work for you for some reason, you can try Andyroid
Sometimes when playing Pokemon Quest, bluestacks ask you fee to pay but gives you option to download some apps. Every time it asks you just select "Install apps" and continue using it free.
You can configure your keys inside bluestacks. You can map specific key to specific location. And there is options for tilt, swipe, tap, move up/down/right/left…etc
I hope you enjoyed this article, please rate and share. If you have problems running Pokemon Quest on your desktop or any other issues, leave a comment below.