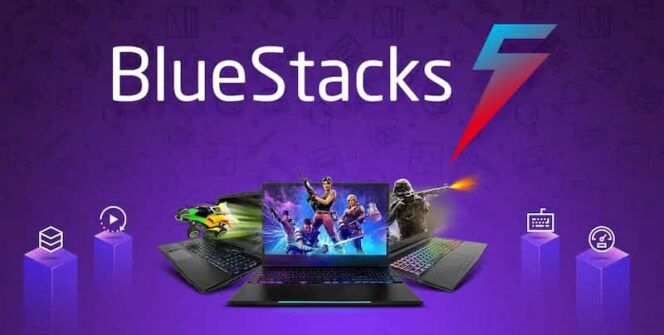 Technology changes and advances with every passing second. The dawn of the android era was marked with a lot of enthusiasm and joy. That's because android devices come with features that made life easy, fun, and convenient. Today, android apps come with many different functionalities and features. And in most cases, most people are forced to buy android devices for them to stay on board in the mobile trends super-boat.
For instance, if you wanted to contact a friend living on the other side of the globe, the standard Text message and call charges would be overwhelming, but if you used WhatsApp, Facebook Messenger, Google Hangouts, or even Skype, it wouldn't cost you much – just the app and an internet connection. Notably, it's quite easy to get addicted to these apps.
So what do you do when you can't afford an android device or when you want to enjoy android apps on your PC or Mac? The answer is quite simple, use an android emulator like Bluestacks (the most popular in the market). Emulators were built to help users to run android apps on their PCs and Macs. Currently, Bluestacks is among the best-known emulators that can run on a Windows 7/8/8.1/10/XP PC or a MAC iOS laptop or desktop.
What is Bluestacks?
Bluestacks is a free android emulator that allows users to install and enjoy android apps on their PC or MAC computers. That's mainly because older Windows and iOS operating systems do not support android apk files, which means that you cannot directly install an android app to your laptop or desktop without using an android emulator like Bluestacks.
How to Download and Install Bluestacks 5?
Downloading Bluestacks is usually free from their official website. All you have to do is;
Download a copy of the Bluestacks 5 installer here –> LINK
The process of installation is usually simple. Just follow the instructions step by step from the pictures below.
Make sure you have Google/Gmail account, it is necessary to download and play apps/games.
Make sure you have a working internet connection because the installer has to connect to Bluestacks servers to download more installation files.
Once the installation is complete, you are now ready to move on to the next stage – downloading and installing android apps on your Bluestacks emulator.
How to Download, Install and Play Games/Apps with Bluestacks?
Installing apps on Bluestacks is quite easy. There's usually a search box where you can input the name of any app you want to download and install. Below is the whole process;
On the emulator's search box, type in the name of the app you want to look for.
Bluestacks will find the app/game from the app market available in the form of a results list.
Once you've spotted your app/game from the list, click on it and click install.
You will be prompted to confirm the installation and once you've confirmed, the app will be installed on your Bluestacks emulator. It's as easy as 1-2-3!
You'll have your app up and running in just a few seconds.
How to Install Apps in Bluestacks Using APK files?
Sometimes, you may not find the apps you are looking for from the app markets. That means that you'd have to download the .apk file and install them manually. Luckily, once you install Bluestacks on your PC, the emulator becomes the default apk handler on your laptop or desktop. That means that you can download apk files directly to your computer and use Bluestacks to open them. Once you double-click on a .apk file, Bluestacks will automatically install and run the app on the emulator.
Where can I Find the Bluestacks Offline Installer?
The Bluestacks offline installer can be found on the official Bluestacks website. For download links, installation and support follow this guide.
The offline installer for BlueStacks 5 Nougat 32-bit, Nougat 64-bit, and Pie 64-bit allows you to install BlueStacks 5 on your computer without an internet connection. The installer has two different commands for installing BlueStacks 5 Nougat 64-bit and Pie 64-bit, depending on the Android version you wish to install.
Tips Using Bluestacks
If Bluestacks don't work for you for some reason, you can try these alternative emulators.
Sometimes when playing, bluestacks ask you to pay a fee but gives you the option to download some apps. Every time it asks you, just select "Install apps" and continue using it for free.
You can configure your keys inside bluestacks. You can map specific keys to a specific location. And there are options for tilt, swipe, tap, move up/down/right/left…etc
Features of Bluestacks
First, the home screen has no tabs, and therefore, it is clutter-free, lean, and simple to use. Since the user interface is simple and lean, it results in an optimized consumption of the CPU and memory and as a result, your experience is smooth and fast.
The software allows you to use your PC's / MAC's resources to emulate an Android device. That means that it allocates a portion of your RAM, Hard disk Memory, and CPU to create an emulated Android device where you can download, install, and enjoy your favorite android apps.
This amazing emulator also allows you to download a lot of free and paid apps from various app markets like Apple App Store, Google Play Store, and Getjar among others. This means that you can enjoy all your favorite android apps on your Windows 7/8/8.1/10/XP PC or a MAC iOS laptop or desktop – you no longer have to buy an android device!
There is also a new function incorporated into the latest version of the emulator referred to as "Dock". This is just a bar that is found at the bottom of the Home Screen of this android emulator. This feature serves the purpose of providing you with fast access to essential features of Bluestacks.
Also, there is a new and innovative keyboard controls editor provided. This furnishes you with a user interface that is modern and thus, using existing keyboard controls and fashioning new keymaps becomes simple, easy, and intuitive. Additionally, Bluestacks offers intuitive keymapping. This feature allows you to get the same gaming experience associated with real PC gaming.
In addition, with the multi-instance feature, you are allowed to create multiple Bluestacks instances and play different games instantaneously, either across different accounts or on the same account. The best part about all this is that you can run the same app, multiple times at the same time – a feature that lacks in most android devices.
Another feature is Bluestacks Points, which you can earn playing games and spend in the Bluestacks Store. Also options like chatting with friends/in-game users and streaming live games directly to twitch.tv.
Is Bluestacks Safe to Download for my PC?
Having seen the importance of Bluestacks, it is important that you first ensure that this android emulator is safe for your use. That is because we are in the age where the data securities of most tech companies such as Facebook are increasingly getting compromised and consumer data hack.
And so, since Bluestacks is just like any other normal app, you have to think about the security and safety of your data.
Since the release of the app in 2011, no security breaches have been reported. Bluestacks has been made a safer, more secure, and better platform because top companies including Qualcomm and Samsung have invested in it.
Moreover, it is recommended that you download your apps from only trusted stores like Google Play(if you are worried about security). That is because Google verifies uploaded apps on its Play Store and deletes apps that may pose security and safety risks to its users.
One more thing, make sure that you download and install Bluestacks from its official website and that your computer has antivirus software to ensure that the software is safe or not to be downloaded and installed.
Can I get Banned from the Game using Bluestacks?
Generally, most people who are using Bluestacks say they have not encountered any banning issues. To avoid a possible ban, if there is any, it is important that you adhere to the terms and conditions of Bluestacks and 3rd party apps. For example, avoid employing the use of game hacks, and hack tools and asking for any refunds.
BlueStacks 5 System Requirements
Minimum System Requirements
OS: Microsoft Windows 7 or higher, macOS.
CPU: Any Intel or AMD.
RAM: at least 4GB of RAM memory.
HDD: at least 5GB Free Space(for storing apps/games and their data).
Administrator access on your PC.
Latest graphics drivers from Microsoft/Apple or the chipset vendor.
Recommended system requirements
OS: Microsoft Windows 10, Windows 11, macOS.
Processor: Intel or AMD Multi-Core Processor with Single Thread PassMark score above 1000.
Graphics: Intel/Nvidia/ATI, with a PassMark score above 750.
RAM: 8GB or higher.
HDD: 5GB Free Space on SSD (or Fusion/Hybrid Drives).
Internet: Broadband connection to download and access games, accounts, etc.
Latest graphics drivers from Microsoft/Apple or the chipset vendor.
How to Play Games on Bluestacks with Controllers?
Using game controllers is advantageous to a gamer since they improve accuracy, response time, and efficiency.
Plugin your USB cable (or receiver) into your computer. A notification that says that Bluestacks has connected Gamepad will be displayed once you have connected your computer with a compatible controller.
Games that work with controllers?
Below the icon of any game which works with controllers, you will see a controller icon displayed by Bluestacks. Alternatively, using the Gamepad collection option, you can also view all the game-pad-ready games.
Check for controller-assigned controls.
Most popular games have game-specific gamepad controls created and provided by Bluestacks. You can check the controller-assigned controls by either clicking the keyboard control UI icon(found on Bluestacks'bottom-right side) or using keys Ctrl+Shift+H.
Editing existing controls.
When you launch a game on the platform, a game controls window automatically opens. From the control guidance window's top right corner; there is a function for editing. Simply edit the existing/assigned keys/controls from the gamepad.
All the different controls of the game you are to play are categorized according to the different activities or actions to be performed. Some of the assigned actions may include movement, chat, vehicle, etc.
Can I Play iOS Games/Apps on Bluestacks?
No, you can't. For now, the Bluestacks emulator runs only Android apps from Google Play Store and uploaded .apk apps from other markets. But if you own a MAC, you can install Bluestacks for macOS on it and download and play Android games without any issue.
iOS .ipa apps can't run on the Bluestacks platform. To run iOS games/apps you need an iOS emulator like iPadian or just visit Apple App Store on your macOS and download the games/apps from there.
Why Bluestacks Slow Down my PC and What to Do?
If Bluestacks slows down your PC and causes gameplay delay, here are some of the solutions to help you fix this lag problem.
In Engine Settings, assign more CPU and RAM.
Update Bluestacks to the latest version available.
Enable Virtualization on the computer.
Use the latest updated version of your graphics drivers.
If the system specifications of your computer are low, do not use multiple applications simultaneously.
Bluestacks is continuously being improved to offer you the best user experience and performance possible.
It is recommended that you employ the use of the latest version of Bluestacks, available for download from its official website, to benefit from new features, bug fixes, and improvements in app compatibility and performance.