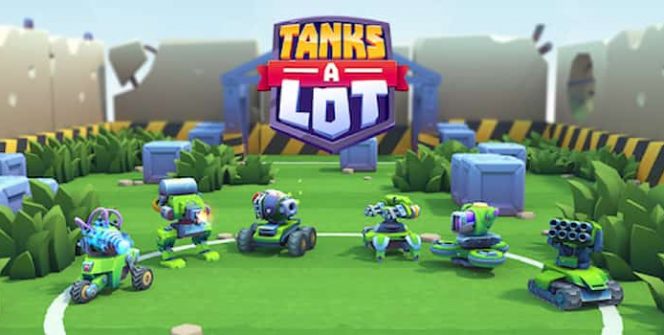 Download Tanks A Lot! for PC
Download, Install and Play Tanks A Lot! on your Desktop or Laptop with Mobile App Emulators like Bluestacks, Nox, MEmu…etc.
OS:
Windows
7/8/8.1/10/XP/Vista or
MacOS
How to Play Tanks A Lot! on PC (Easy Steps):
Download, Install and Run the Emulator.
Install Tanks A Lot! Apk from the Store.
Launch and Play the Game from the App Library!
Tanks A Lot! Review, Main Features, Gameplay and Video
Tanks are making a comeback on the mobile gaming space. You can find plenty of tank-themed games on the application stores so making one that stands out from the rest is a challenge. Tanks A Lot! may just be one of the worthy few.
Gameplay
Tanks A Lot! 3v3 brawls plays a lot like the other tank games. The tanks are designed with a minimalist feel that makes them look more like toys with canons attached. The colors of the tanks can be changed to your liking.
The gameplay is just as simple as the graphics. Players are put in arenas either individually or as teams of three and they are pitted against other players where battles play out in fast-paced action sequences on a map that can render some players invisible and is viewed from an isometric perspective. The team/player that dies the least comes out as the winner.
Fighting is the primary objective however there are elements of building as well. You can scavenge for new parts such as tracks, skirts, and hulls which will then be used to build your own tank from scratch. Winning battles also gives you new resources which you can use to upgrade your existing tanks in preparation for more challenging battles.
The strategic elements in this tank game keep it interesting. The strategy plays a lot like Air Wings where you have to make smart decisions in the middle of your dog fight while making sure that your own base is protected at all times. The good thing is that the elements don't stick rigidly to realism the way that other tank games do.
The gameplay is not perfect though. The control method can be a bit of a hassle as the primary movement control is a floating stick that moves around the screen. A joystick that stays in one position would have been much better because if you miss the stick and stop moving, you become an easy target for your enemies.
The progression and reward system is a bit archaic as well. You will win 20 trophies for each battle won but lose almost 50 of them if you lose.
The chest system is hardly any better. You get chest rewards based on how long you have been playing for but the payout is slow and you have to wait several hours to unlock a chest that you earned unless you plan on using some in-game currency. The number of chests you can carry is limited to four.
The Good
A unique take on a classic game genre. Special features such as teleportation keep it from taking itself too seriously.
The Bad
The limited number of chest slots may make the game last longer however it is insulting for players who have been playing for extended periods anyway and rightfully earned all those chests.
Conclusion
Tanks A Lot! is an okay game. The small strategic choices that you have to make give it some flavor but ultimately it is very repetitive. Whether you win or not will boil down to how lucky you are when using those wild controls.
I hope you enjoyed this guide, please rate and share. If you have problems running Tanks A Lot! on your PC or any other issues, leave a comment below.
Tanks A Lot! - Realtime Multiplayer Battle Arena