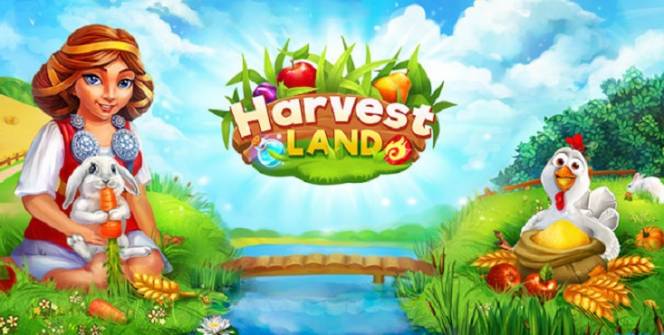 Harvest Land for Windows 7/8/8.1/10/XP/Vista/MAC OS/Laptop
There are many simulation games that let you play as a farmer tending to your own land. Harvest Land for PC is one of them – an enjoyable, relaxing game that lets you plant various fruits, veggies and take care of farm animals such as cows, chicken and much more!
Can't wait to start working on the fields? Download Harvest Land on your PC and take a look at this Harvest Land primer to get started.
About Harvest Land
Harvest Land is a delightful casual game created by MysteryTag. Here, you'll be able to do many things, like building a house, setting up a new village, taming and fighting with animals and monsters, and most of all, growing crops and raising farm staples.
Harvest Land lets you harvest resources such as wood, stones and diamonds and features online trading with friends. Play the game to unlock the many island mysteries. You can also build various farm structures such as mines, hog farms, hen houses and sawmills.
The graphics in Harvest Land for Windows is cute, charming and exactly what you'd expect from a farm simulation game. Play the game long enough and you'll expand to a full-fledged farm in no time at all!
Start Your Farming Journey
As you open Harvest Land, take a quick scan of all the things you can do. Read up on all the starting features, the buildings, the animals and the crops you can grow.
It's important to get a running start when you play the game. You will want to level up quickly so you can access and unlock all the game's features as soon as possible. Here's a tip- get the ones that give you XP and money quickly.
You'll want to grow crops that only take a minute or two so you can get crucial XP for getting to the higher levels. This goes the same for the buildings- get the ones that won't take up too much of your time. Instead of upgrading the buildings you'll want to get new ones in order to expand the things you can do in-game.
The key to enjoying Harvest Land is to eliminate the wait times through several strategies. First, you will want to spend your resources on items, animals and crops that give you the fastest return for your investment. Focus on upgrading the 5, 10 or 15 minute upgrades instead of the hour-long unlocks.
You can also spend in-game cash or purchase gold to get to the next levels faster. This is a strategy you can opt for if you have extra cash on hand. You will be able to level up and get exclusive content this way.
Don't forget to set upgrades and plant crops before exiting the game so you'll have something to harvest when you get back in the game!
Don't Be Afraid To Experiment
Harvest Land is free and it's easy to learn, don't be afraid to access the game's many features to advance. Who knows, you may be one of the first players to find something new, especially when there's a new update containing plenty of new content.
How To Play/Download Harvest Land on PC
Follow the instructions below, it's really easy and it takes about 5-10 minutes to run the game.
Download Bluestacks from their official site
Run and Install it
Open the bluestacks app and setup your Google Play Store with your gmail, sometime it asks for phone verification
After that search for "Harvest Land"
Click the Install button next to game icon
When it's done, you can find and play Harvest Land in "All Apps" or in "My Applications" sections
Download Harvest Land for Mobile and Tablet Devices
Google Play Store Link
Apple App Store Link
Harvest Land Trailer
More Harvest Land Tips Using Bluestacks
If Bluestacks don't work for you for some reason, you can try Andyroid
Sometimes when playing Harvest Land, bluestacks ask you fee to pay but gives you option to download some apps. Every time it asks you just select "Install apps" and continue using it free.
You can configure your keys inside bluestacks. You can map specific key to specific location. And there is options for tilt, swipe, tap, move up/down/right/left…etc
I hope you enjoyed this article, please rate and share. If you have problems running Harvest Land on your desktop or any other issues, leave a comment below.