Terminator Genisys: Future War for Windows 7/8/8.1/10/XP/Vista/MAC OS/Laptop
Most games with the same name as the movie come out before the movie reaches the big-screen but Terminator Genisys: Future War for PC came out a full two years after the movie premiered to an unimpressed audience worldwide. This is probably because Future War acts a kind of sequel, picking up the story where the movie finished off.
Gameplay
Put simply, this game is a free-to-play that keeps you doing a lot of meaningless tasks like building bases and going about to pick up resources to build more bases.
The good thing about this game is that you don't have to be the good-for-nothing humans. If you've secretly been hoping that Skynet wins and takes over the world then now is your chance to put aside your humanity and fight for the robot cause of human-extinction. Even so, you'll be disappointed to find out that which side you choose doesn't really make a difference.
The game offers very little in terms of story therefore you'll still have to go through the same motions either way regardless of which side you pick. Gameplay is the same, the only difference is whether you're on the blue team or the red team.
Once you've picked your side it's time to set up your base. The game walks you through the opening stages then leaves you to your own devices after that. From there it's all about shoring up your defenses by collecting resources and going on an endless number of missions build your army.
This game doesn't really have a campaign to speak off; just a set of tasks on a list that need to be taken care of. Task number one is being bigger and stronger than your enemy. You're at war, remember?
You can take on the other factions on your own however you can form alliances as well before you go into battle. The battles don't require much skill to speak of and are usually decided by who was the best prepared. Battles play themselves out so you just have to sit back and watch.
The Good
Each side has the same kinds of artillery available to them i.e siege units, cavalry, and infantry so you won't feel like you're missing out by choosing one side over the other. The only difference is that Skynet can unleash T-series Terminators and Hunter Killers however the Resistance has tech which can turn some of those machines against their creator.
Some tasks take longer than others but those that take less than five minutes can be boosted for free. Longer tasks will require an in-app purchase if you can't wait.
The Bad
Without a story line to keep you hooked and invested in what happens in the end, this game feels like nothing more than a set of tasks that need completing. In-app purchases are included to help you get through when you just don't feel like grinding.
Conclusion
Terminator Genisys: Future War for PC is fun for hardcore mobile gamers who like to grind out results but the more casual gamer will probably overlook it. It offers plenty of items to unlock and bases to capture but its all just busy-work for the sake of busy-work with no end to the madness in sight.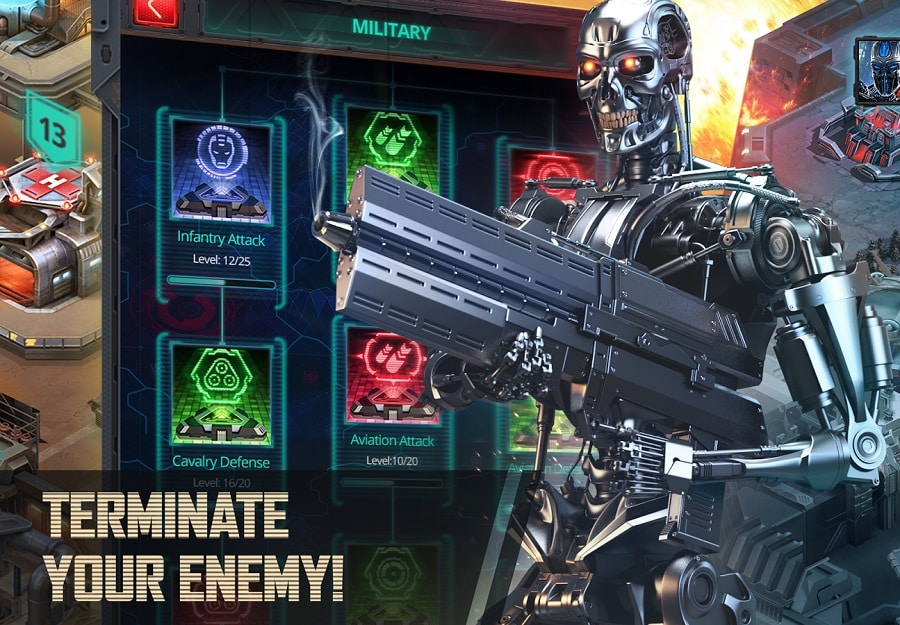 How To Play/Download Terminator Genisys: Future War for PC
Follow the instructions below, it's really easy and it takes about 5-10 minutes to run the game.
Download Bluestacks from their official site
Run and Install it
Open the bluestacks app and setup your Google Play Store with your gmail, sometime it asks for phone verification
After that search for "Terminator Genisys: Future War"
Click the Install button next to game icon
When it's done, you can find and play Terminator Genisys: Future War in "All Apps" or in "My Applications" sections
Download Terminator Genisys: Future War for Mobile and Tablet Devices
Google Play Store Link
Apple App Store Link
Terminator Genisys: Future War Trailer
More Terminator Genisys: Future War Tips Using Bluestacks
If Bluestacks don't work for you for some reason, you can try Andyroid
Sometimes when playing Terminator Genisys: Future War, bluestacks ask you fee to pay but gives you option to download some apps. Every time it asks you just select "Install apps" and continue using it free.
You can configure your keys inside bluestacks. You can map specific key to specific location. And there is options for tilt, swipe, tap, move up/down/right/left…etc
I hope you enjoyed this article, please rate and share. If you have problems running Terminator Genisys: Future War on your desktop or any other issues, leave a comment below.