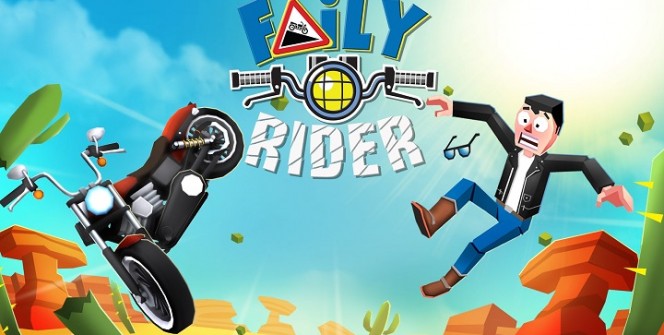 Faily Rider for Windows 7/8/8.1/10/XP/Vista/MAC OS/Laptop
After seeing success with Faily Brakes, Spunge Games Ltd., is introducing a similar game called Faily Rider. The new epic is compatible with iOS devices, and we expect an Android version soon.
The main character remains to be Phil Faily and the setting is the Nevada Desert. The game takes you to the desert where you come across a lot of obstacles while riding a motorcycle. You will come across rocks, creeks, cacti, vehicular traffic and passing trains as you indulge in sightseeing adventures.
Get Involved In A Bumpy Ride
The paths are filled with bumps, dips and ramps that will definitely make your exploration quite stressful. You will need to avoid these quirks in order to make your adventures more enjoyable and get to the finish line. The best way to avoid these obstacles is to make straight angles and skillfully maneuver your bike.
Be Careful With The Big Jumps
Big jumps are quite tricky: they can throw you off the path into dangerous obstacles. You will get thrilled when doing big jumps, but you need to do a trick to your bike to avoid any setbacks. Tap the screen lightly and tweak your direction when performing the big jumps to avoid hurting situations.
Control Your Bike With Light And Subtle Taps
The best way to control your motorcycle in Faily Rider is to make small, short and slight taps on the screen. This will subject your bike to little force and prevent it from veering off the path. You can also make hard and long taps, but this is recommended when maneuvering away from dangerous obstacles.
Collect Coins As You Avoid Obstacles
The game presents you with coins that you can collect and upgrade a lot of things. It is recommended to chase coins that are in your path to avoid getting into control issues. Coins are less valuable compared to other rewards in the game, so you don't have to struggle collecting the ones stuck in the obstacles.
Use The Coins Wisely
You may think that it is wise to use your coins to buy costumes and motorcycles, but this is pretty not recommended. New motorcycles and costumes will not boost your exploration: they will only make you look attractive. The new bikes do not come with better handling or improved horsepower while the new costumes do not provide improved protection.
The best way to spend your coins is to buy power-ups which are game-changer elements. You get incredible energy and stamina when you add some power-ups to your game.
Ride Through Walls When There Are Too Many Obstacles
Walls are considered "less harmful" in Faily Rider, so you can consider navigating them when the path is filled with obstacles. You can hug them to avoid deadlier obstacles or when planning your next strategies. Some rocks may appear very close to the walls, so watch out for them and avoid them as much as possible.
Faily Rider for PC
This is a mobile game, but it is can be played on a MAC, laptop or desktop. You need to install an Android or iOS emulator on your PC in order to download and install the game app. One of the best benefits of playing the game on a computer is improved controls and better viewing.
How To Play/Download Faily Rider for PC
Follow the instructions below, it's really easy and it takes about 5-10 minutes to run the game.
Download Bluestacks from their official site
Run and Install it
Open the bluestacks app and setup your Google Play Store with your gmail, sometime it asks for phone verification
After that search for "Faily Rider"
Click the Install button next to game icon
When it's done, you can find and play Faily Rider in "All Apps" or in "My Applications" sections
Download Faily Rider for Mobile and Tablet Devices
Google Play Store Link
Apple App Store Link
Faily Rider Trailer
More Faily Rider Tips Using Bluestacks
If Bluestacks don't work for you for some reason, you can try Andyroid
Sometimes when playing Faily Rider, bluestacks ask you fee to pay but gives you option to download some apps. Every time it asks you just select "Install apps" and continue using it free.
You can configure your keys inside bluestacks. You can map specific key to specific location. And there is options for tilt, swipe, tap, move up/down/right/left…etc
I hope you enjoyed this article, please rate and share. If you have problems running Faily Rider on desktop or any other issues, leave a comment below.