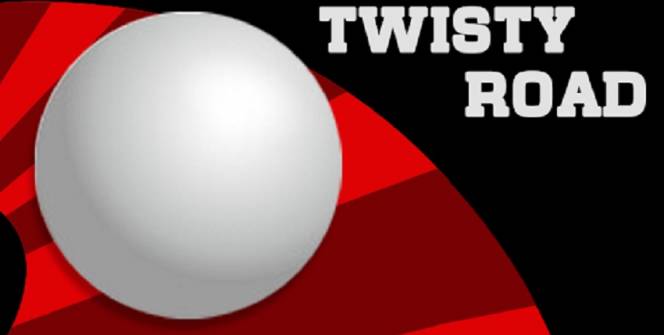 Twisty Road! for Windows 7/8/8.1/10/XP/Vista/MAC OS/Laptop
If you're looking to play a quick, skill-based game which can be played in a few minutes, it's well worth giving Twisty Road! a try. In Twisty Road! for PC, you'll guide a white ball down a treacherous twisting path, which curves left and right at unnatural angles. In order to master this game, you'll need incredible focus and fast reflexes, in order to keep your ball on the path.
Twisty Road! Tips:
1. There are only two buttons to master.
The only buttons which you'll need to use are the left button and the right button, which you'll use to control your ball.
2. If you're brave, consider taking a leap of faith
While you can choose to stay on track, as the track spirals downwards, you may be able to time a jump so that you'll land further down the track. Just make sure that your aim is accurate as otherwise, you could end up missing the track and falling to your doom.
So if you don't want to be forced to restart a level from scratch, it pays to only take a leap of faith when you're sure that you'll be able to stick your landing.
3. The blue gates which you pass through mark each level.
Unlike other games, which will give you a few seconds to relax between levels, Twisty Road! is a continuous game, which keeps going, until you fall off the track. The only recognition you'll get when you pass a level is when you pass through a glowing blue gateway.
4. Pick up your speed in order to increase your score.
If you thought your only goal was to get to the end of the track, without falling to your doom, think again. In order to achieve a decent score, which you'll be able to brag about to all of your friends, you'll need to roll your ball as fast as you can as the faster you finish each level the more points which you'll earn.
In order to get your ball rolling faster, try to build your ball's momentum by minimizing your left and right turns as much as possible.
5. Avoid obstacles where possible.
Occasionally, there will be obstacles in your way which you won't be able to avoid. As an example from time to time, the path in front of you will be blocked by a glass wall. In which case you'll have two options, you can try to jump off the track in the hopes of landing on a piece of track or you can increase your speed in order to try and break through the glass barrier in front of you.
6. Remember, when it comes to skill-based games practice makes perfect.
The only way to beat your high score is to practice, practice, practice. As the more, you get used to avoiding obstacles with ease, the quicker you'll be able to roll your ball down the track and the more likely you are to beat your previous high score.
So if you have sharp reflexes and great focus, it's well worth giving Twisty Road! a try.
How To Play/Download Twisty Road! on PC
Follow the instructions below, it's really easy and it takes about 5-10 minutes to run the game.
Download Bluestacks from their official site
Run and Install it
Open the bluestacks app and setup your Google Play Store with your gmail, sometime it asks for phone verification
After that search for "Twisty Road!"
Click the Install button next to game icon
When it's done, you can find and play Twisty Road! in "All Apps" or in "My Applications" sections
Download Twisty Road! for Mobile and Tablet Devices
Google Play Store Link
Apple App Store Link
Twisty Road! Trailer
More Twisty Road! Tips Using Bluestacks
If Bluestacks don't work for you for some reason, you can try Andyroid
Sometimes when playing Twisty Road!, bluestacks ask you fee to pay but gives you option to download some apps. Every time it asks you just select "Install apps" and continue using it free.
You can configure your keys inside bluestacks. You can map specific key to specific location. And there is options for tilt, swipe, tap, move up/down/right/left…etc
I hope you enjoyed this article, please rate and share. If you have problems running Twisty Road! on your desktop or any other issues, leave a comment below.