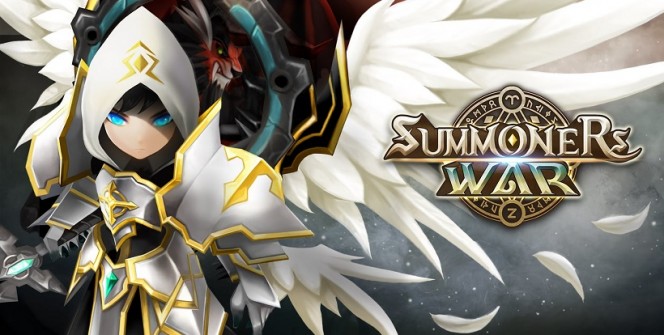 Summoners War: Sky Arena for Windows 7/8/8.1/10/XP/Vista/MAC OS/Laptop
Summoners War: Sky Arena is the game for you if you love online RPGs, card games and epic battles. This game has all of these in a neat package, and is sure to keep you entertained for many hours to come. The game is free to play, with several optional in-app purchases such as mystery scrolls containing monsters, power-ups, speed boosters for XP, and similar items. Because of these, the game borders on pay-to-win a bit. Neverthless, it is still an enjoyable and addictive one.
About the Game
Summoners War, as it is a RPG-collecting card game hybrid, is all about collecting monster cards, engaging in battles with enemy computer or player-controlled monsters, earning resources and leveling up.
A unique thing about this game is that combat is fully controlled by the player: it is not simulated or controlled automatically, you are in control over every battle. The other collection and base-building aspects are pretty simple: amass resources via battles, and use those to upgrade specific buildings and their respective monsters.
The Battle System
The battles are realized in gorgeous full 3D, some monsters even have cut-scenes for their special attacks, which look great. As the player is in control, not only they have to create their monster team before every battle from the available units, but they also have to issue every single order to them. Because of the huge variety in monster types, elemental damages and archetypes, there are a lot of viable strategies and tactics.
The three main archetypes might be familiar from MMOs: tanks who can withstand great amounts of damage, healers who keep the HPs of party members up, and damage dealers dish out group or single-target damage. You need a well-balanced party to tackle most enemy encounters, and with more than 400 different monsters to collect and level, you will be busy for a long time.
The monsters also have elemental damage types and resistances, you should get to know the counters, such as fire vs ice, air vs lightning, light vs darkness and so on, because the game is built around this rock-paper-scissors style.
Game Modes
Summoners War features two main game modes: single-player story or skirmish missions done against the computer, and Arena PvP, where players fight it out in real-time matches.
Pay to Win or Not?
You can spend a ton of money or time on Summoners War, and due to the Mystery Scrolls you can buy in any amount, the game is heavily biased toward those who spend a lot of money. However, free players can earn a lot of monsters and their cards from daily quests, but these don't really do anything to close the gap between payers and free players, since both groups can earn these.
However, the gap is somewhat mitigated by the PvP Arena system, which pays attention to relative army levels when matchmaking players with each other for real-time PvP action.
Summoners War is available for iOS and Android via their respective app stores, or you can download the android apk for your Windows 7/8/8.1/10/XP PC or MAC and run it via an Android emulator.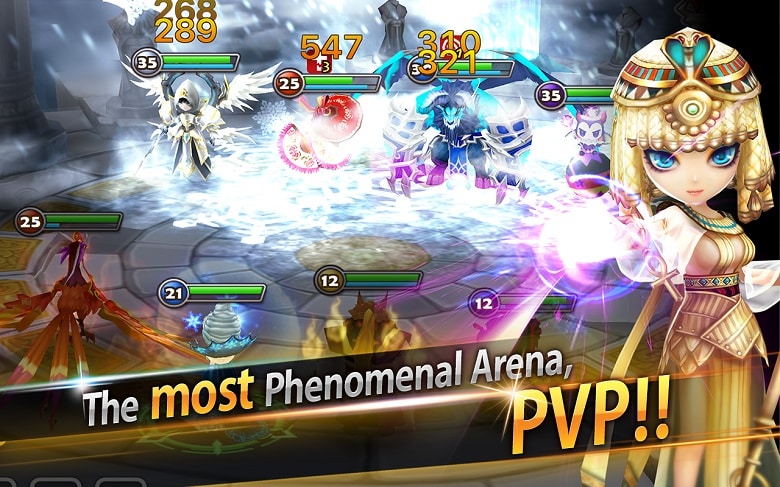 How To Play/Download Summoners War: Sky Arena for PC
Follow the instructions below, it's really easy and it takes about 5-10 minutes to run the game.
Download Bluestacks from their official site
Run and Install it
Open the bluestacks app and setup your Google Play Store with your gmail, sometime it asks for phone verification
After that search for "Summoners War: Sky Arena"
Click the Install button next to game icon
When it's done, you can find and play Summoners War: Sky Arena in "All Apps" or in "My Applications" sections
Download Summoners War: Sky Arena for Mobile and Tablet Devices
Google Play Store Link
Apple App Store Link
Summoners War: Sky Arena Trailer
More Summoners War: Sky Arena Tips Using Bluestacks
If Bluestacks don't work for you for some reason, you can try Andyroid
Sometimes when playing Summoners War: Sky Arena, bluestacks ask you fee to pay but gives you option to download some apps. Every time it asks you just select "Install apps" and continue using it free.
You can configure your keys inside bluestacks. You can map specific key to specific location. And there is options for tilt, swipe, tap, move up/down/right/left…etc
I hope you enjoyed this guide, please rate and share. If you have problems running Summoners War: Sky Arena on desktop or any other issues, leave a comment below.