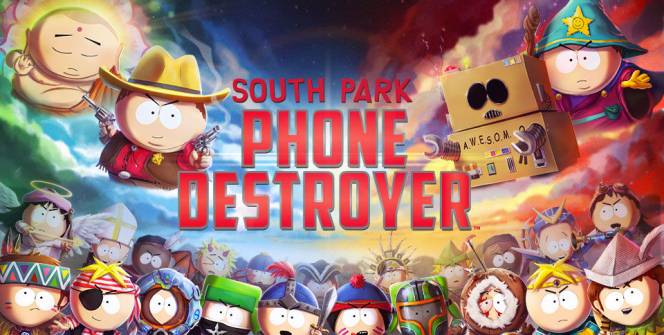 Download South Park: Phone Destroyer for PC
Download, Install and Play South Park: Phone Destroyer on your Desktop or Laptop with Mobile App Emulators like Bluestacks, Nox, MEmu…etc.
OS:
Windows
7/8/8.1/10/XP/Vista or
MacOS
How to Play South Park: Phone Destroyer on PC (Easy Steps):
Download, Install and Run the Emulator.
Install South Park: Phone Destroyer Apk from the Store.
Launch and Play the Game from the App Library!
South Park: Phone Destroyer Review, Main Features, Gameplay and Video
South Park: Phone Destroyer is a free, role-playing, card-based, combat game for Android & iOS devices, developed by Ubisoft. The action-packed game lets you take on the iconic characters from the animated series- South Park. You'll find Stan, Cartman, Kyle, Kenny, and many more.
The game offers epic, real-time player vs. player battles as well as a hilarious single-player story, created in collaboration with South-Park Digital Studios. In this page, we share everything you want to know about this addictive mobile game, and we also illustrate how to install it on Windows 7/8/8.1/10/XP and MAC computer.
Game Plot
South Park: Phone Destroyer takes you to a living room full of kids dressed in different costumes, and fighting over what to play today. One of them suggests that they should probably play Aliens vs. Robots, and another insists that Christians vs. Jews is way better and full of fun. The argument goes on for a while until a kid dressed as the sheriff- Cartman, enters the room.
Cartman declares that they're going to play Cowboys vs. Indians. Other kids claim that the Indians kicks their asses every time. But what they may not know is that this time, Cartman has a plan. He has learned about a sharp-shooter kid, who's a master of his phone, since he's often on the phone all the time, and that's you.
Gameplay
Begin by creating your character, a kid. You are free to either randomize or customize him/her. If you prefer customization, you'll need to select gender, hair, skin color, facial features, clothes, accessories and more. Then meet Stan of Many Moons (The Indians Team) in the middle of the neighborhood where houses are decorated for Christmas holidays.
The Action
Your score will be displayed on the top-left side of your screen, above your hero, while the enemy's score appears on the top-right, above him. Your 5-cards, representing kids that have taken different roles such as outlaw, gunslinger, assassin, ranger, sheriff, etc, are displayed at the bottom of your screen. And the battery, which refills gradually, is located on the far left side of the screen.
Each card has a battery cost displayed on it, and you are free to deploy kids on the field based on the available battery. Tap to select a kid, and then drag him on the battle-field. All kids fight automatically based on their traits and characteristics.
You can view each kid's attribute by tapping and holding on a card. During battles, a bubble may appear above a unit, and you just need to tap to activate its special powers.
Note:
Cowboys and Indians health is displayed on top of their head.
You win the battle only after you've eliminated all the enemy kids, and beaten the Indian Chief.
Overall, South Park: Phone Destroyer features a series of levels where you'll be walking down the streets and clear level after level as you hunt your opponents.
Features:
You'll love the South Park: Phone Destroyer's smooth and easy-on-the-eyes graphics.
The game gives you a whole new South Park experience with new & twisted versions of the infamous characters like Stan of Many Moons, Ninjew Kyle, Cyborg Kenny, Grand Wizard Cartman, etc.
Face your opponents in real-time, player vs. player battles.
Build your own deck of cards and then use them to challenge other real players from across the board.
Collect & upgrade over 80-unique cards, featuring all-new, beautifully rendered designs.
Join a team and boost your decks by sharing cards with your teammates.
You can customize your heroes and make them as unique as you want with lots of options.
Witness Randy cross-dressing in new & exciting outfits.
Assemble your ultimate team of cyborgs, wizards, cowboys and more, and get ready to crush your opponents.
Kill Kenny
Summary
To emerge victorious in South Park: Phone Destroyer, you need to use the collected cards very carefully. Also, ensure that you prevent your characters from getting killed. We recommend that you keep an eye on the moves of your opponents and restrict them from attacking you. But that can be tough when playing on Android or iOS devices.
Use the steps illustrated below to download & install South Park: Phone Destroyer for PC and increase your chances of winning the epic, real-time player vs. player battles.
I hope you enjoyed this guide, please rate and share. If you have problems running South Park: Phone Destroyer on your PC or any other issues, leave a comment below.
South Park: Phone Destroyer™ | Play Now!