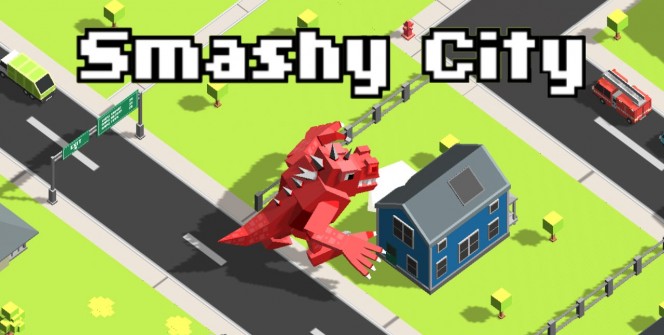 Smashy City for Windows 7/8/8.1/10/XP/Vista/MAC OS/Laptop
Developed by Ace Viral, Smashy City is an exciting mobile game for Android and iOS devices. With a suitable Android/iOS emulator, gamers can also play the game on a PC. It is based on the Kaiju movies and comes with simple game mechanics and retro-style graphics. The player aims to destroy everything in the city in order to increase his or her rating.
Unlock 36 Monsters And Cause Havoc With Them
Some monsters include giant ape, dinosaurs, crocodile, wolf, spider, lizard, penguin and spider. You can collect as many monsters as possible as you try to choose the most favorite ones for you. You are then required to use these characters to punch down buildings, bash houses to fragments and smack down skyscrapers.
Choose Monsters With Greater Strength And Better Skills
Monsters have different levels of strength and skills, so you need to find and choose the ones with better qualities. The characters are categorized into Epic, Exotic and Rare, with the Epic monsters providing better attacks.
If you have real money to thrown in, you can purchase Bling Kong which has the greatest strength and the best skills.
Use Rampage Mode To Become Indestructible And Destroy Everything
You need to destroy large amounts of buildings and other items in order to access this mode. On the right of your screen, there is a Rampage Meter that shows when you can get in this mode.
When the meter fills up, unleash Rampage Mode to destroy as many items as possible. The mode last for a few seconds, so you need to intensify your destructions in that short period of time. When in this mode, you will be resistant to most of the stopping forces like the army, SWAT and police.
Enjoy Destroying A Huge Randomly-Generated Endless City
You will never find similar city setups in the Smash City setup. The cities are generated randomly, so you will enjoy destroying new things when you have a new game. The cities are huge and endless which means that you will be kept motivated, engaged and busy for a long time.
Escape Or Battle Stopping Forces To Continue Wrecking Havoc
As mentioned earlier, the game has army, SWAT and police which try to stop you from destroying the city. You will encounter police cars, helicopters, tanks, APCs and armored vehicles which you must destroy or escape in order to continue with your mission.
It is recommended to always move around to avoid getting hit from behind.
Get Free Coins And Other Gifts
One way to get coins in Smashy City is to destroy buildings that have coin symbols over them. Another way is to watch ad videos whenever they are available. The game also provides you with other gifts that you can use to unlock new monsters or upgrade other features.
Play Smashy City On Your Laptop Or Desktop
Smashy City for PC is available with an Android/iOS Emulator. You can download and install the emulator and the game app on your PC and enjoy a wonderful gaming experience on a bigger screen. The game can work on a computer running Windows 7, 8, 8.1, 10, XP, Vista or Mac OS.
How To Play/Download Smashy City for PC
Follow the instructions below, it's really easy and it takes about 5-10 minutes to run the game.
Download Bluestacks from their official site
Run and Install it
Open the bluestacks app and setup your Google Play Store with your gmail, sometime it asks for phone verification
After that search for "Smashy City"
Click the Install button next to game icon
When it's done, you can find and play Smashy City in "All Apps" or in "My Applications" sections
Download Smashy City for Mobile and Tablet Devices
Google Play Store Link
Apple App Store Link
Smashy City Trailer
More Smashy City Tips Using Bluestacks
If Bluestacks don't work for you for some reason, you can try Andyroid
Sometimes when playing Smashy City, bluestacks ask you fee to pay but gives you option to download some apps. Every time it asks you just select "Install apps" and continue using it free.
You can configure your keys inside bluestacks. You can map specific key to specific location. And there is options for tilt, swipe, tap, move up/down/right/left…etc
I hope you enjoyed this guide, please rate and share. If you have problems running Smashy City on desktop or any other issues, leave a comment below.