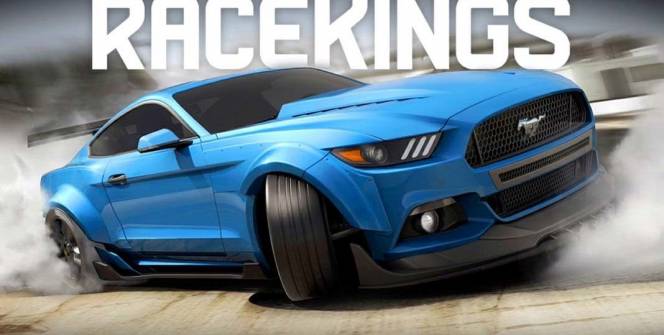 Download Race Kings for PC
Download, Install and Play Race Kings on your Desktop or Laptop with Mobile App Emulators like Bluestacks, Nox, MEmu…etc.
OS:
Windows
7/8/8.1/10/XP/Vista or
MacOS
How to Play Race Kings on PC (Easy Steps):
Download, Install and Run the Emulator.
Install Race Kings Apk from the Store.
Launch and Play the Game from the App Library!
Race Kings Review, Main Features, Gameplay and Video
Race Kings is a drift-racing game which is one of the most popular genres in mobile gaming. People love games like this because they give you an adrenaline fueled, short burst of intense gameplay.
Gameplay
Race Kings plays like most other drag racers. The main thing that sets it apart from the rest is the fact that you are always racing against real-world players via an internet connection. This makes Race Kings' success reliant on how active the community is but this is not a problem because there is always someone online itching for a race.
Winning your races is down to how skilled you are at pressing buttons at just the right moment.
Set off from the starting grid by pressing the button just as the light turns green then using a combination of the handbrake and the gas button to drift around the bends and maintain your momentum. All that you have to do in order to win is make sure that you're better at maximizing your speed out of those turns.
Having a better car than your opponent also helps. Your car won't come out of the shop maxed out therefore you're tasked with using your upgrade points to turn your car into a powerhouse by installing better components which improve its acceleration and braking.
The upgrades are pretty simple to make and won't wow anyone who knows anything about cars.
One thing that's unique about Race Kings for PC is that you can place bets on every race. You start off with small bets but as you gain experience and win more races then you are given the option of placing higher bets. The returns go right back into the game by spending them on more upgrades or buying better cars so that you can stand a chance in higher stakes races.
The Good
The developers took a risk by making it so that you can only play against other real-world players but the risk paid off because the community is vibrant, offering plenty of short races over a variety of events.
The Bad
Upgrades take time to implement thanks to timers that slow you down. You can use premium currency and IAPs to get round those timers but ultimately you'll probably just wait because its repetitive nature means that you won't be playing for long stretches at a time anyway.
You've got a few different tracks to keep things interesting but the overall gameplay is all the same: get across the track while making turns at breakneck speed. Even a professional running those tracks over and over again in real-life would get bored.
Conclusion
Race Kings is fun to play. Despite the repetitiveness there are a few new elements that are unlocked as the game progresses and you'll always have the satisfaction of knowing that every race won was against a real-world player rather than a bot.
The continued success of this game depends largely on the strength of its community. They are bound to move on to something else eventually so enjoy Race Kings while there are still people to play with.
I hope you enjoyed this guide, please rate and share. If you have problems running Race Kings on your PC or any other issues, leave a comment below.