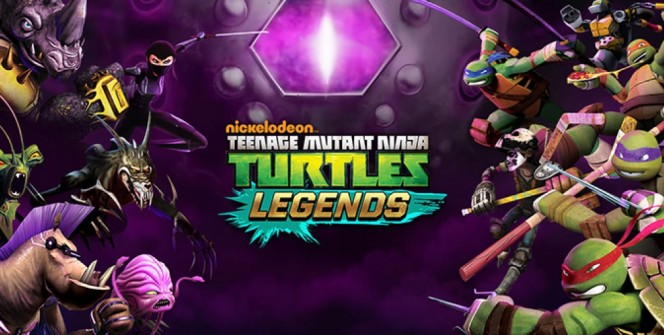 Ninja Turtles: Legends for Windows 7/8/8.1/10/XP/Vista/MAC OS/Laptop
Maybe it's because of the nostalgia, but, when we look at some shows from our childhood, they seem to be simply timeless. For a lot of kids in 90s and early 2000s, Teenage Mutant Ninja Turtles were a favorite cartoon. It seems that situation hasn't changed even today, millions of kids enjoy in Nickelodeon's TMNT show.
So, if you're one of those people who enjoy watching four ninja turtles eating pizza and destroying villains, Teenage Mutant Ninja Turtles: Legends is the right game for you. But, even if you're not a fan of the show, we're sure that you're going to love this action packed game, full of characters from the cartoon.
In order to attract as many old-school TMNT fans possible, Nickelodeon and developers from company Ludia decided to make this game extremely authentic.
We simply know that every player will get super excited when they see just how many characters there are in this game, including obvious ones, such as our favorite four turtles, Casey Jones, April O'Neil, and not so popular characters like Chris Bradford, Spider Bytez, Xever, Karai, etc.
Gameplay
Teenage Mutant Ninja Turtles: Legends might look like just another turn-based tactical game, but, actually, there is one thing that's special about this game, and that's the fact that this game has narratives.
You shouldn't be having problems with the game itself, considering that the gameplay is pretty straight-forward and easy to understand. Characters will often act in sequence, but that will depend on some factors, such as speed, etc.
In the beginning, you might find a game a bit boring, since the low-level characters don't have anything special to use, they only have one attack that they can use. But, don't let this discourage you since you will be able to use many strategies when you rank and level up the characters.
Sadly, it's not that easy to level up unless you play the game often. The reason for that is the fact that you need to collect a specific amount of DNA in order to rank up and reach the next tier. You can collect DNA by playing finished levels again, but, this time on a hard level. Even if you finish those levels again, there's still a chance that you won't get your desired DNA.
One thing's for sure, TMNT: Legends has the most delicious energy mechanics, and that's pizza. That's why you shouldn't be surprised at all when you realize that you're out of energy, these turtles are often hungry. You can resolve that problem by being more active and logging in more than once each day.
When you log in, the game will give you free card packs, and in those packs, you can find pizza, mutagen, DNA and some other useful things.
If you're lazy and don't want to play the game multiple times per day, you can buy these packs with real money. But, we wouldn't recommend you do that, unless you have a lot of money since the packs cost almost $10.
Even though TMNT: Legends has a highly impressive roster, there is one thing that's missing, content. The seven-story chapters aren't bad at all, but, you don't have anything to do after you complete them.
Features
-Enormous roster with original and additional characters
-5 on 5 battles
-Collect and level up characters
-Collect daily prizes
System Requirements
If you want to play Ninja Turtles, you will need a device with iOS, Android or Windows/MAC OS.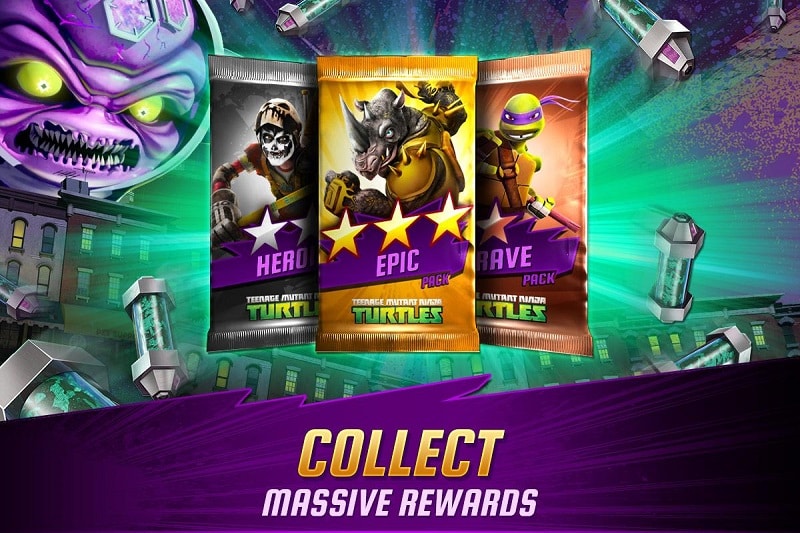 How To Play/Download Ninja Turtles: Legends for PC
Follow the instructions below, it's really easy and it takes about 5-10 minutes to run the game.
Download Bluestacks from their official site
Run and Install it
Open the bluestacks app and setup your Google Play Store with your gmail, sometime it asks for phone verification
After that search for "Ninja Turtles: Legends"
Click the Install button next to game icon
When it's done, you can find and play Ninja Turtles: Legends in "All Apps" or in "My Applications" sections
Download Ninja Turtles: Legends for Mobile and Tablet Devices
Google Play Store Link
Apple App Store Link
Ninja Turtles: Legends Trailer
More Ninja Turtles: Legends Tips Using Bluestacks
If Bluestacks don't work for you for some reason, you can try Andyroid
Sometimes when playing Ninja Turtles: Legends, bluestacks ask you fee to pay but gives you option to download some apps. Every time it asks you just select "Install apps" and continue using it free.
You can configure your keys inside bluestacks. You can map specific key to specific location. And there is options for tilt, swipe, tap, move up/down/right/left…etc
I hope you enjoyed this guide, please rate and share. If you have problems running Ninja Turtles: Legends on desktop or any other issues, leave a comment below.