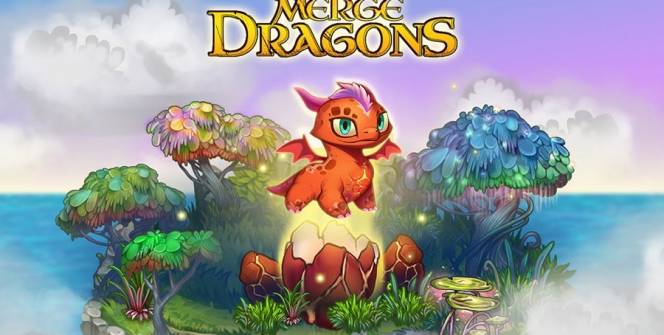 Merge Dragons! for Windows 7/8/8.1/10/XP/Vista/MAC OS/Laptop
Merge Dragons! for PC merges two genres – the puzzle genre and the city building genre as the primary aim of the game is to restore life to a magical land, which attracts dragons, by matching identical objects, in order to create brand new objects. As a basic example, if you line up a minimum of three matching dragon eggs, you'll hatch a baby dragon.
As well as restoring life to a barren land, you'll have an opportunity to run a camp full of dragons. The more time you spend advancing through the available levels, the more dragons you'll unlock for your camp.
Merge Dragons Gameplay Tips:
1. Try to form lines of 5 matching objects.
While the basic premise of this particular game is to line up items of at least three identical objects. You'll progress through the game faster, if you try to form lines of 5 matching objects, instead of lines of 3 matching objects. As if you match 5 objects, you'll be rewarded with 2 new items, while if you match 3 objects, you'll only receive one new item.
What makes this particular game unique is that you can match and merge any items which can be found on your island. You can even match up lines of trees, treasure or flowers. If you hatch five identical dragons, try to line them up in order to unlock a special bonus.
2. Make sure to match Gaia statues in order to win each level.
The last task of each level is to match 5 Gaia statues, which will reward you with a bounty of treasure, which you can take back to your camp. The more treasure you earn, the quicker you'll be able to expand your camp and attract new types of dragons to your camp.
3. Prioritize matching eggs and dragons over other items.
One way to quickly progress through each level is to prioritize matching eggs in order to create dragons as dragons are the key to healing your land. As an example, dragons have the ability to restore life to dead plants.
4. Try to match yellow hearts, instead of simply clicking on them.
While you can click on yellow hearts in order to increase your healing power, you'll receive a far greater amount of healing power, if you try to match 3, 4 or 5 golden hearts in a row. Just remember that the more golden hearts you match, the greater your bonus is likely to be!
5. You are able to match dead squares of land, in order to heal them.
If you're having difficult hatching dragon eggs in order to hatch powerful dragons which can heal your land, simply match 3 or more squares of dead land, in order to instantly heal each piece of land which you successfully matched.
6. Match rare dragon stars as soon as you can.
Rare dragon stars may fall onto your screen, in groups of three. As soon as you see them appear, try to match them as they'll disappear if you don't match them quick enough.
So if you like the sound of Merge Dragons, it's well worth getting started in order to start adding cute dragons to your camp!
How To Play/Download Merge Dragons! on PC
Follow the instructions below, it's really easy and it takes about 5-10 minutes to run the game.
Download Bluestacks from their official site
Run and Install it
Open the bluestacks app and setup your Google Play Store with your gmail, sometime it asks for phone verification
After that search for "Merge Dragons!"
Click the Install button next to game icon
When it's done, you can find and play Merge Dragons! in "All Apps" or in "My Applications" sections
Download Merge Dragons! for Mobile and Tablet Devices
Google Play Store Link
Apple App Store Link
Amazon App Store Link
Merge Dragons! Trailer
More Merge Dragons! Tips Using Bluestacks
If Bluestacks don't work for you for some reason, you can try Andyroid
Sometimes when playing Merge Dragons!, bluestacks ask you fee to pay but gives you option to download some apps. Every time it asks you just select "Install apps" and continue using it free.
You can configure your keys inside bluestacks. You can map specific key to specific location. And there is options for tilt, swipe, tap, move up/down/right/left…etc
I hope you enjoyed this article, please rate and share. If you have problems running Merge Dragons! on your desktop or any other issues, leave a comment below.