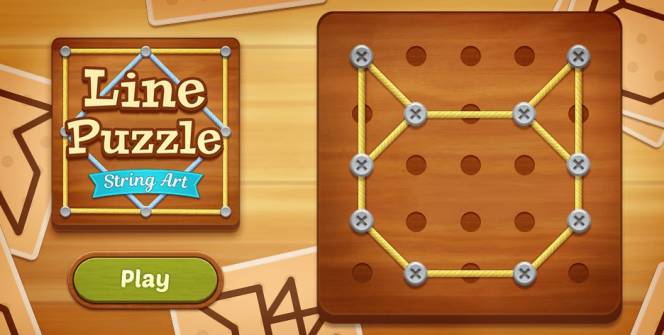 Line Puzzle: String Art for Windows 7/8/8.1/10/XP/Vista/MAC OS/Laptop
If you're on the hunt for a brand new puzzle game to download, you may be interested in playing Line Puzzle: String Art for PC. A fun, casual game which is simple to pick up and which will keep you entertained for countless hours.
How to play String Art
At the start of each level, you'll be provided with a shape that you need to recreate by moving a piece of string around a wooden pegboard. While this may seem simple, it can be a rather challenging task as you aren't able to move any of the nails on your wooden puzzle board. Also, keep in mind that you can't overlap your piece of string, so make sure to plan each move out carefully.
The Benefits of Downloading String Art for Windows:
1. It offers increasingly challenging levels.
When you first start off playing String Art, you'll be tasked with creating rather simple images such as the outline of a cat's head. However, as you progress through String Art's addictive levels you'll be faced with more difficult, mind-numbing challenges such as forming an intricate flower with multiple petals, with a single piece of string.
2. String Art does offer hints, which you'll be able to use when you get stuck.
If you quickly tire of playing games which offer levels which are almost impossible to beat, don't worry as if you find a particular level infuriating String Art does offer hints. Just remember to use your hints wisely as you only have a limited amount of hints to use.
3. There are currently over 300 levels to work your way through.
If you become addicted to String Art you're in luck as Line Puzzle:String Art currently offers over 300 unique levels to work your way through.
4. Stress-free untimed gameplay.
While most games offer countdown clocks and time limits, if you choose to download String Art, you'll be free to complete each level at your leisure.
So if you're looking to download a game which you can play whilst you're watching TV or commuting to work, that doesn't require a huge level of concentration, you may find that String Art is just the type of casual puzzle game that you've been looking for.
5. Can be played offline.
Once you've downloaded String Art you'll be able to play String Art with or without an internet connection.
6. Fun sound effects.
String Art boasts fun, quirky sound effects which definitely make playing String Art a pleasant, relaxing experience. So it's well worth turning your speakers up when you start playing Line Puzzle: String Art.
7. Professional graphics.
String Art also offers high quality, cartoon graphics that you'll fall in love with.
8. You'll become more focused as a result of playing String Art.
As String Art is at its heart a puzzle style brain trainer, the more you play String Art, the more focused you'll become on a day to day basis. So if you'd love to become more focused you can't go wrong playing String Art.
So if you like the sound of String Art's gameplay and benefits, it's well worth downloading and playing the game.
How To Play/Download Line Puzzle: String Art on PC
Follow the instructions below, it's really easy and it takes about 5-10 minutes to run the game.
Download Bluestacks from their official site
Run and Install it
Open the bluestacks app and setup your Google Play Store with your Gmail, sometime it asks for phone verification
After that search for "Line Puzzle: String Art"
Click the Install button next to game icon
When it's done, you can find and play Line Puzzle: String Art in "All Apps" or in "My Applications" sections
Download Line Puzzle: String Art for Mobile and Tablet Devices
Google Play Store Link
Apple App Store Link
Line Puzzle: String Art Trailer
More Line Puzzle: String Art Tips Using Bluestacks
If Bluestacks don't work for you for some reason, you can try Andyroid
Sometimes when playing Line Puzzle: String Art, bluestacks ask you fee to pay but gives you option to download some apps. Every time it asks you just select "Install apps" and continue using it free.
You can configure your keys inside bluestacks. You can map specific key to specific location. And there is options for tilt, swipe, tap, move up/down/right/left…etc
I hope you enjoyed this article, please rate and share. If you have problems running Line Puzzle: String Art on your desktop or any other issues, leave a comment below.