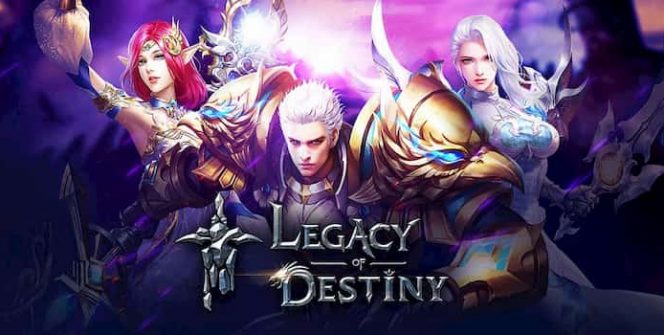 Download Legacy of Destiny for PC
Download, Install and Play Legacy of Destiny on your Desktop or Laptop with Mobile App Emulators like Bluestacks, Nox, MEmu…etc.
OS:
Windows
7/8/8.1/10/XP/Vista or
MacOS
How to Play Legacy of Destiny on PC (Easy Steps):
Download, Install and Run the Emulator.
Install Legacy of Destiny Apk from the Store.
Launch and Play the Game from the App Library!
Legacy of Destiny Review, Main Features, Gameplay and Video
Reasons to play Legacy of Destiny:
1. You'll level up fast.
Forget grinding away at monotonous, mind numbing tasks for countless hours as Legacy of Destiny features a fair play system which will give you multiple ways to gain experience points each day. As examples, you'll be able to earn valuable experience points by completing daily challenges, battling and killing monstrous, high level bosses.
2. Legacy of Destiny allows you to play with a love interest.
While there are a few MMO games which allow you to meet and marry other characters, Legacy of Destiny is unique as you'll be able to date and marry a character which another real life player has created.
Once you tie the knot with your new video game beau, you'll be able to work together to level up faster and to complete challenges. Better yet, there are even dungeons which only couples can explore, that offer incredible prizes.
3. You can share items with your guild mates.
When you join a guild of like minded, friendly players, you'll be able to lend and borrow items from your guild mates. So if you can't afford to purchase a specific item, to finish a quest, you may be able to borrow the item which you need, from a guild mate.
4. You can earn coins from selling your unwanted items.
Legacy of Destiny for PC features a bustling marketplace, where you can sell items which you've acquired for coins, which you can use to purchase, items that you actually need. As an example, if you receive double up items from killing bosses, you'll be able to easily sell your extra items, quickly and easily.
5. You can fly from one destination to another.
There are two ways to fly from one destination to another, you can equip your character with wings, such as angel wings or you can use a mount, such as a phoenix or a flying rocket, to explore Legacy of Destiny's open world.
6. You can dress your character however you want.
Part of the fun of playing Legacy of Destiny is that you'll be able to dress your avatar in a wide array of fun costumes. As an example, you may want to dress your avatar as a dark angel or as a sorcerer or sorceress.
7. There is a handy auto play feature.
If you wish that you could acquire resources and points while you're working on watching TV, you're in luck as Legacy of Destiny does offer an auto play feature, that will help you level up even faster.
8. You can use auto play in battles.
If you'd like to get through as many battles as you can in a day, simply use auto play during battles, to simulate an end result instantly, based on your player statistics and your opponent's player statistics.
So if you like the idea of being able to level up quickly and to be able to marry another MMO character, it's well worth downloading Legacy of Destiny. As within a day you should be able to level up multiple levels.
I hope you enjoyed this guide, please rate and share. If you have problems running Legacy of Destiny on your PC or any other issues, leave a comment below.