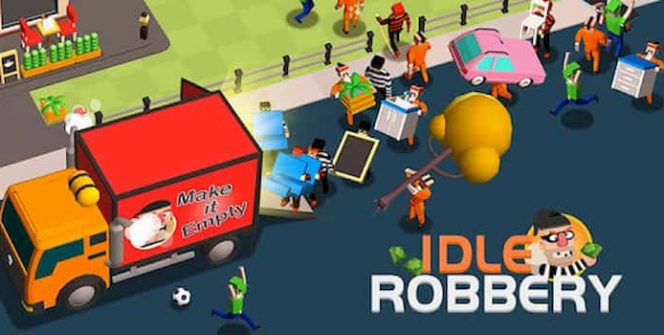 Download Idle Robbery for PC
Can you pull off a strategic robbery without getting caught? In Idle Robbery you'll be tasked with robbing a series of houses, without getting caught red handed. To discover a simple guide to succeeding at playing Idle Robbery continue reading to discover everything that you need to know about the game.
Download, Install and Play Idle Robbery on your Desktop or Laptop with Mobile App Emulators like Bluestacks, Nox, MEmu…etc.
OS:
Windows
7/8/8.1/10/XP/Vista or
MacOS
How to Play Idle Robbery on PC (Easy Steps):
Download, Install and Run the Emulator.
Install Idle Robbery Apk from the Store.
Launch and Play the Game from the App Library!
Idle Robbery Review, Main Features, Gameplay and Video
Work on increasing your strength and speed stats.
In order to be able to lift heavier objects and to quickly transport the items which you steal to your getaway truck it's crucial to work on increasing your strength stats and your speed stats. To increase your strength and speed stats simply use some or your profits to purchase strength and speed upgrades.
Increase the size of your crew.
You'll also be able to complete more lucrative missions and to target more expensive houses by using the money which you earn to increase the size of your crew. As the more robbers that you hire the quicker that you'll be able to clean each house out.
Scope out each house for the most valuable items.
The first items which you should add to your loot are high value items. Examples of which include appliances such as ovens as well as electrical goods such as flat screen TV sets. So it's well worth quickly scoping out each house that you rob in order to identify which items are worth stealing and selling.
Look out for floating coins and treasure chests.
Some levels feature hidden treasure chests which you can click on in order to win lucrative rewards. As well as treasure chests you may notice that some levels will boast floating coins which you'll be able to collect.
You'll get to rob banks.
Once you have a bit of experience robbing residential houses you'll get to rob a bank. A mission which will earn you a significant amount of money which you'll be able to use to increase your crew size and to increase your strength and speed stats.
You'll get to rob flash mansions.
Once you start to level up you'll go from robbing small homes to large sprawling mansions. The latter of which are full of expensive items which your crew will be able to steal. By this stage you should have made sure that you have a sizeable crew as there will be countless different rooms to rob.
Keep an eye on your crew.
To ensure that your crew members don't return to your truck empty handed which can happen it's crucial to keep an eye on each member of your crew. As an example, you don't want your crew members to steal one book at a time as they should be stealing bigger items such as beds, bikes and sofas.
Avoid stealing from bookshelves.
Bookshelves aren't worth stealing as your robbers will try to return to your getaway truck with one book at a time.
So even if you'd never steal an object in real life it can be a whole lot of fun downloading and playing Idle Robbery. Especially if you beautifully animated simulation games!
I hope you enjoyed this guide, please rate and share. If you have problems running Idle Robbery on your PC or any other issues, leave a comment below.