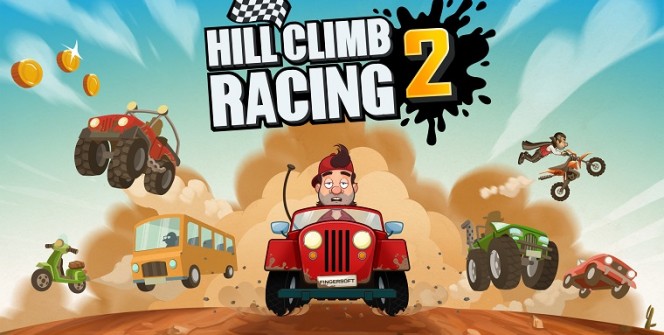 Hill Climb Racing 2 for Windows 7/8/8.1/10/XP/Vista/MAC OS/Laptop
When we're talking about games or even movies, sequels aren't nearly as good as the original game/movie. But, Hill Climb Racing developers decided to do something about this, and make a sequel worthy of their franchise, that's how we got Hill Climb Racing 2. We can say with certainty that this is indeed a perfect sequel since it carries every aspect that made the original game so successful.
This means that you won't have to worry about some unnecessary changes or additions, because most things stayed the same, but, with some major improvements. This means that there are lots of challenges, acrobatic stunts, crazy obstacles from the original games. but, also, all of this will be more enjoyable because of the better graphics and some additional gameplay improvements we will discuss later on.
Gameplay
Most people doesn't notice any changes when it comes to the gameplay, but, that's just because they haven't played first game long enough. I mean, I won't lie, the basic concept of the game is pretty much the same, the player controls a vehicle of their choice (when you start the game, the only vehicle available will be the jeep, but as you collect money, you can buy better cars) and tries to reach the finish line at the end of a bumpy road.
The controls are as straight-forward as they can get, you have two inputs you can use, gas and brake. It might seem easy, but, trust me, when you see all the crazy obstacles this game has to offer, you'll realize just how hard this game can be. The good thing is that none of the vehicles are extremely heavy, so you can have even more fun by performing crazy stunts. Performing tricks such as wheelie, flips, etc. will give you some much needed coins, that you can use for many things. But, be careful, you might get carried away with all these entertaining tricks and forget that as soon as your head touches the ground, it's game over.
Even though the controls are somehow limited, there is still large number of moves you can perform to finish the race faster than you would normally do. It's also important to say that you won't be using this skills only to finish the race faster, you will also use them to refuel, climb the hill, or simply to prevent any neck injury.
Just like in most games, every vehicle is unique, so when you decide to go shopping and buy yourself a new one, think about your playstyle, because it's easier to buy a vehicle that suits you, than to change the way you play the game entirely. This also means that if you've mastered one vehicle, that doesn't mean that you will be equally good when you start playing with the next one.
If you've played the first version of the game and you're reading this article, you must be wondering where are all these improvements I wrote about in the beginning. Well, the first improvement has to be handling. To be honest, vehicles still tend to be a bit bouncy, but, it's much easier to control them now, since the physics are much more "natural".
The second big change is customization. In Hill Climb Racing 1, you haven't had much choices when it comes to customization, but, things have changed. Now, you can get new hats, shirts, pants, etc. This might not be that important for the gameplay itself, but, it's nice to change character's look from time to time.
Features
Smooth Graphics
Large number of vehicles
Many customization choices
Addictive
System Requirements
In order to play Hill Climb Racing, you will need a device with Android, iOS or Windows/MAC with emulator.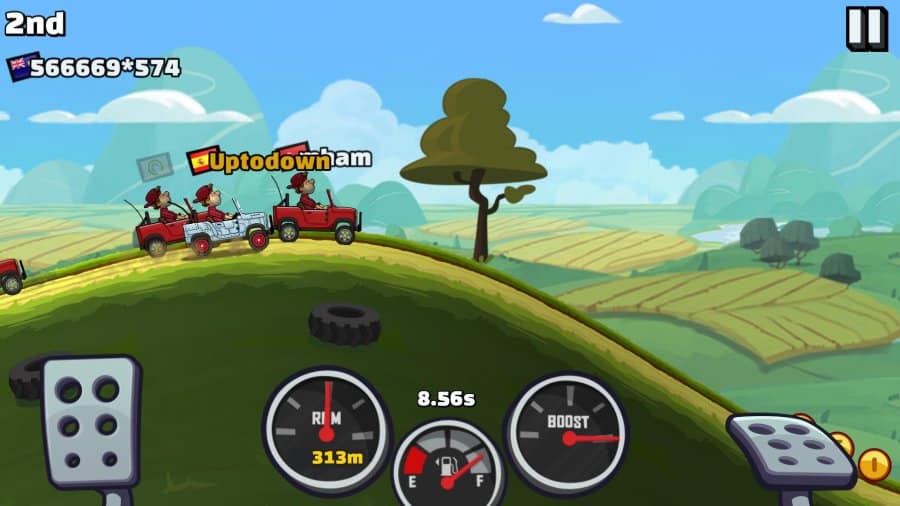 How To Play/Download Hill Climb Racing 2 for PC
Follow the instructions below, it's really easy and it takes about 5-10 minutes to run the game.
Download Bluestacks from their official site
Run and Install it
Open the bluestacks app and setup your Google Play Store with your gmail, sometime it asks for phone verification
After that search for "Hill Climb Racing 2"
Click the Install button next to game icon
When it's done, you can find and play Hill Climb Racing 2 in "All Apps" or in "My Applications" sections
Download Hill Climb Racing 2 for Mobile and Tablet Devices
Google Play Store Link
Apple App Store Link
Hill Climb Racing 2 Trailer
More Hill Climb Racing 2 Tips Using Bluestacks
If Bluestacks don't work for you for some reason, you can try Andyroid
Sometimes when playing Hill Climb Racing 2, bluestacks ask you fee to pay but gives you option to download some apps. Every time it asks you just select "Install apps" and continue using it free.
You can configure your keys inside bluestacks. You can map specific key to specific location. And there is options for tilt, swipe, tap, move up/down/right/left…etc
I hope you enjoyed this article, please rate and share. If you have problems running Hill Climb Racing 2 on desktop or any other issues, leave a comment below.