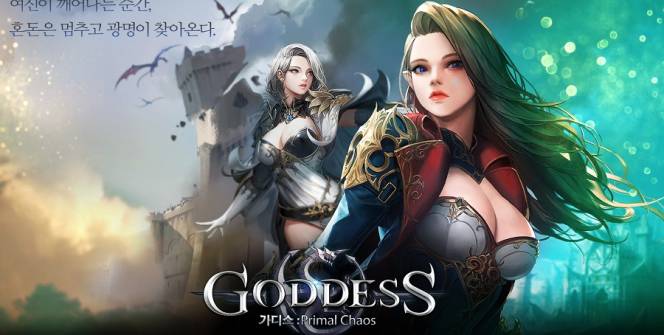 Goddess: Primal Chaos for Windows 7/8/8.1/10/XP/Vista/MAC OS/Laptop
MMORPGs on mobile devices are starting to look more and more like they were designed for consoles and Goddess: Primal Chaos is a such game that is pushing the boundaries of what the graphics cards on mobile devices can handle.
Gameplay
Goddess: Primal Chaos allows you to pick from one of three fighter classes before joining millions of players from around the world to fight, team up and trade items as the ally of a powerful goddess.
MMORPGs are a favorite among mobile gamers because of games like this. There seems to be one for every theme however sifting through them to find the rare gems is hard and Goddess: Primal Chaos for PC makes the search worth it. With its outstanding graphics, smooth running and massive player base, it is a joy to play.
The first thing that you'll have to do in this game is create the character that you'll play with. The character that you choose can be from one of three classes and two genders.
The three fighter classes to choose from are Warrior which is a tyrpical sword-carrying brute, the Summoner who is able to conjure spells and the Bloodline who is an assassin-type that relies on speed and slashing attacks. This is not much to choose from however they each have a number of interesting skills.
The ultimate goal in this game is to save the world from the evil antagonist who goes only as 'The Tyrant'. Each quest brings you closer to your goal by chipping away at the Tyrant's power base and yielding rewards that you can use to buy and upgrade your character's fighting gear.
There are also wild quests which are side missions that you can go on to get more rewards for upgrades.
The Good
The stellar graphics are the standout feature of this game. The display looks console-grade and fits well on the new high-powered mobile devices available on the market.
The controls fit in to the great display very well. The user interface is made up of several buttons that are easy to control and blend well with the intuitive interface for a seamless playing experience.
One of the strongest selling points for this game is the multiplayer experience. The battles in multiplayer are fast-paced, PvP battles that allow 1v1, 2v2 and 3v3 encounters.
The alliance system works well when you are fighting alongside another player because you are able to share resources and it encourages you to go on raids with other players.
The Bad
Character customization is limited to gender and fighter class. You are not able to customize features such as hair color and facial features to help your character strand out from the millions of other players.
Conclusion
Goddess: Primal Chaos will be a big hit among MMORPG players who fall in love with beautiful displays. The limited number of fighter classes and customization options will annoy many players however the other elements such as graphics, well-thought out controls and engaging quests will more than make up for that and keep them hooked.
How To Play/Download Goddess: Primal Chaos on PC
Follow the instructions below, it's really easy and it takes about 5-10 minutes to run the game.
Download Bluestacks from their official site
Run and Install it
Open the bluestacks app and setup your Google Play Store with your gmail, sometime it asks for phone verification
After that search for "Goddess: Primal Chaos"
Click the Install button next to game icon
When it's done, you can find and play Goddess: Primal Chaos in "All Apps" or in "My Applications" sections
Download Goddess: Primal Chaos for Mobile and Tablet Devices
Google Play Store Link
Apple App Store Link
Goddess: Primal Chaos Trailer
More Goddess: Primal Chaos Tips Using Bluestacks
If Bluestacks don't work for you for some reason, you can try Andyroid
Sometimes when playing Goddess: Primal Chaos, bluestacks ask you fee to pay but gives you option to download some apps. Every time it asks you just select "Install apps" and continue using it free.
You can configure your keys inside bluestacks. You can map specific key to specific location. And there is options for tilt, swipe, tap, move up/down/right/left…etc
I hope you enjoyed this article, please rate and share. If you have problems running Goddess: Primal Chaos on your desktop or any other issues, leave a comment below.