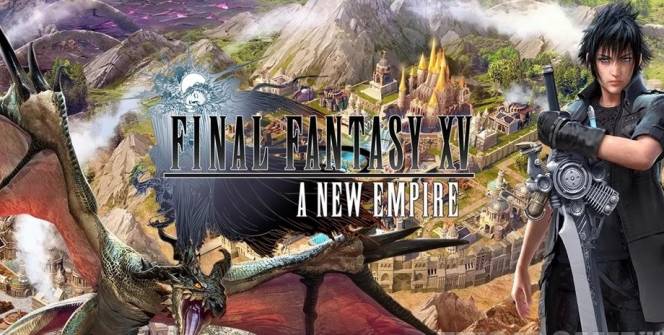 Download Final Fantasy XV: A New Empire for PC
Download, Install and Play Final Fantasy XV: A New Empire on your Desktop or Laptop with Mobile App Emulators like Bluestacks, Nox, MEmu…etc.
OS:
Windows
7/8/8.1/10/XP/Vista or
MacOS
How to Play Final Fantasy XV: A New Empire on PC (Easy Steps):
Download, Install and Run the Emulator.
Download Final Fantasy XV: A New Empire Apk from the Store.
Launch and Play the Game from the App Library!
Final Fantasy XV: A New Empire Review, Main Features, Gameplay and Video
You'd think that with the sheer number of Final Fantasy games out there that the developers would have figured out a surefire formula for creating a good game however Final Fantasy XV: A New Empire for PC proves to be just another bad war game.
War games such as Mobile Strike were made by the same developers for Final Fantasy XV: A New Empire for PC and they play in a similar manner however you can tell right from the beginning that the aim of this game was to ride on the coat-tails of the popular tittle. Absolutely nothing about it feels like a Final Fantasy game.
Gameplay
Any hope of reliving the Final Fantasy atmosphere is squashed from the very beginning. It starts off with a tutorial from a character who is well known for his moody temperament however in this version he has no personality at all; he's just a soulless bot telling you what to do.
What this translates into is the soulless tapping of buildings and and upgrading your arsenal with as much emotional interaction as the postman doing his morning rounds.
As you go about tapping on random buildings you'll realize that nothing really changes. Sure, you'll gain experience and level up over time but despite that, your actions feel rather pointless. You can pick up a few upgrades after each mission is completed but once again, it lacks any real emotional involvement so you might as well be taking the dog outside for a poo.
If you've gotten this far then you're probably only playing to see it through to the end as you build your rather stale empire. Resources will run out eventually which forces you to go out and find more which is nothing new in war games: all you have to do is look around until you have what you need.
If you don't want to search then you can just chill and let them replenish on their own, kind of like sitting at your office-desk all month while you wait for you bank account to refill but at least at the office you'll be able to check out your cute co-workers while you pass the time.
A few of the other tasks you can do involve research projects which are slightly less boring but ultimately just a distraction. The only real challenge in this game is avoiding the countless pop-ups it throws at you demanding that you feed it in-app purchase but after the terrible experience that it delivers you would be a fool to make any purchases.
The Good
You'll really struggle to find anything good about this game despite the visuals however the guilds give it a little bit of life because you get to interact with other real-world players MMO style.
The Bad
This whole review outlines what's bad about this game however the shameless use of in-app purchases, the horrible use of the Final Fantasy brand and the extremely repetitive nature of its gameplay stand out as the worst aspects of Final Fantasy XV: A New World for PC.
Conclusion
Hardcore Final Fantasy fans will spit on this release and curse the fact that it was ever allowed to soil the name of one of video gaming's most decorated tittles. Everything about Final Fantasy XV: A New Empire for PC is exactly what people despise in free mobile games.
I hope you enjoyed this guide, please rate and share. If you have problems running Final Fantasy XV: A New Empire on your PC or any other issues, leave a comment below.
Final Fantasy XV: A New Empire – Horizons (Extended Cut)