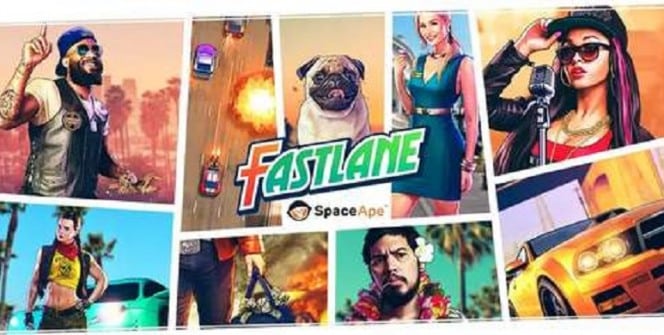 Download Fastlane: Road to Revenge for PC
Download, Install and Play Fastlane: Road to Revenge on your Desktop or Laptop with Mobile App Emulators like Bluestacks, Nox, MEmu…etc.
OS:
Windows
7/8/8.1/10/XP/Vista or
MacOS
How to Play Fastlane: Road to Revenge on PC (Easy Steps):
Download, Install and Run the Emulator.
Install Fastlane: Road to Revenge Apk from the Store.
Launch and Play the Game from the App Library!
Fastlane: Road to Revenge Review, Main Features, Gameplay and Video
Simplicity tends to bring out the best in a game. Fastlane: Road to Revenge takes this principle to heart and gives its players easy-to-use mechanics and lets the AI take care of the hard stuff. You'll rush through the city at breakneck speeds using a single finger to keep your car from spiraling out of control.
Gameplay
Fastlane: Road to Revenge is new territory for Space Ape Games, the studio which made a name for itself by bringing us Transformers: Earth Wars. They kept things easy which means that all you have to do is leave your finger on the screen to keep the car from rolling and swipe from side to side to switch lanes. If only driver's ed was this simple.
So that you don't have to worry about anything else, the guns shoot themselves. All that you have to do is make sure that you can line up the shot and dodge any roadblocks or rockets.
At the beginning all you've got in terms of arsenal is a machine gun. You can upgrade its firepower later on and give it new barrels that shoot diagonally as well and get new armor so that you can handle more hits before exploding on the tarmac. Pit-stops aren't an option so instead you have to pick up power packs conveniently left behind by enemies that you've destroyed.
If guns aren't enough to keep you interested then you can use drones as well to rain fire from above. This and the other power-upgrades are limited but incredibly fun to use while you spread chaos around the city. You could probably say that admiring all the destruction you've wrought is half the fun.
All those toys may make the game look easy but it's not. Staying alive is just one of the challenges that you have to be up to in this game.Your car moves faster the longer that you've been alive and a few obstacles will kill you instantly if you collide with them.
Besides staying alive, your primary objective is causing enough chaos to force the level-bosses to reveal themselves. They're hardly going to sit back and watch while you destroy their property and their goons. There's a storyline about how you're trying to reclaim your former glory mixed in too but it's easy to forget.
The Good
What good is a car ride without some cool tunes? One of the coolest features in this game is how it allows you to interact with Apple Music integration so you can listen to classics while you destroy everything you see on the road. To make it even cooler you're rewarded for reaching level 22 with cameos from YouTube personalities such as Epic Voice Guy and JoblessGamer.
The Bad
Space Ape kept the gameplay simple but complicated extras kill the mood a bit. The energy system is particularly annoying because it restricts the length of your gaming sessions.
Leveling up is also quite a pain. You can't get to the next levels without spending a lot of gems which just pushes you into making the in-app purchases.
Conclusion
Fastlane: Road to Revenge is fun but repetitive. The only thing that will really keep you going is doing your best o beat your longest run. You'll enjoy playing it more than you realize.
I hope you enjoyed this guide, please rate and share. If you have problems running Fastlane: Road to Revenge on your PC or any other issues, leave a comment below.
Fastlane: Road to Revenge OFFICIAL LAUNCH TRAILER