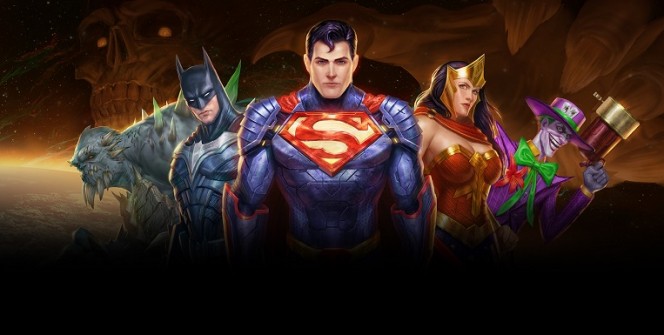 DC Legends for Windows 7/8/8.1/10/XP/Vista/MAC OS/Laptop
It's no secret that most people like happy ending, whether it's in the movie or in a video game. That's one of the reasons this game is so great, but, even though this is a good, positive feature, it's a bit surprising when we consider the fact that DC's latest movies and games have a bit darker theme. Luckily for all of us who like to see their favorite hero not beaten up or killed, WB Games decided to make a game that will make most of us happy.
In order for you to understand what's this game all about, we need to start from the beginning. DC Legends is turn-based game, which is completely stacked with your favorite DC Heroes. But, also, this game wouldn't be that interesting with heroes only, that why developers decided to put villains in the game also. This means that even if you like to see Batman getting his ass kicked, you can collect your favorite bad guys and play with them too.
Even though this is a primary a tactical game, that doesn't mean that it lacks action. We can even say that it's completely opposite. DC Legends is full of PvP battles that will simply take your breath away. But, things weren't always this great for this game.
Before the game was officially released, it wasn't nearly as good as it is now. The main problem was the fact that the game was incredibly boring and PvP battles were confusing. In addition to all of this, the gameplay was quite repetitive, so players had to use same abilities over and over again. Luckily for all of us that currently enjoy playing DC Legends, developers realised that they had to improve the game, so that fans can get what they want. Now, we can say with certainty that they nailed it.
Gameplay
The main concept of this game's gameplay isn't that hard to grasp on. Essentially, your task is to assemble a team of your four favorite characters and use them to fight enemies that will attack you during campaign or some events. Of course, this is only a simple explanation since the game is a bit more complex than this, since every character has his own, unique, special skill set.
As you play the game longer and longer, you will be able to to upgrade your characters' abilities. Also, you can upgrade their gear, or find fragments which allow you to bring your hero to the higher tier. If your upgraded character becomes very strong, he can turn into Legendary form, which gives him some extra abilities and new look.
To make the game even more interesting, developers decided to narrate every single fight in the game. This is extremely cool feature, since it explains why are good guys and bad guys on the same side. We don't even have to mention that this will be particulary interesting to comic book fans that have probably read every single comic book that DC has to offer.
Features
Stunning graphics
Assemble your own team
Battle against many different villains
Collect new characters
Upgrade your favorite hero to a Legendary rank
System Requirements
In order to play DC Legends, you will need a device with Android, iOS or Windows OS/MAC with emulator.
How To Play/Download DC Legends for PC
Follow the instructions below, it's really easy and it takes about 5-10 minutes to run the game.
Download Bluestacks from their official site
Run and Install it
Open the bluestacks app and setup your Google Play Store with your gmail, sometime it asks for phone verification
After that search for "DC Legends"
Click the Install button next to game icon
When it's done, you can find and play DC Legends in "All Apps" or in "My Applications" sections
Download DC Legends for Mobile and Tablet Devices
Google Play Store Link
Apple App Store Link
DC Legends Trailer
More DC Legends Tips Using Bluestacks
If Bluestacks don't work for you for some reason, you can try Andyroid
Sometimes when playing DC Legends, bluestacks ask you fee to pay but gives you option to download some apps. Every time it asks you just select "Install apps" and continue using it free.
You can configure your keys inside bluestacks. You can map specific key to specific location. And there is options for tilt, swipe, tap, move up/down/right/left…etc
I hope you enjoyed this article, please rate and share. If you have problems running DC Legends on desktop or any other issues, leave a comment below.