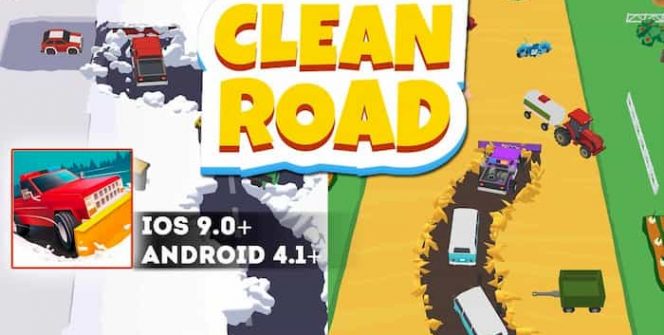 Clean Road for Windows 7/8/8.1/10/XP/Vista/MAC OS/Laptop
Clean Road is basically a game that requires you to clean a road. The roads on the game are littered with snow and cars. You have to navigate your snow plow without hitting the traffic.
It seems like a pretty basic game but it has a massive following. It has been created by SayGames. SayGames is popular for creating simple but really addictive games such as Painter.
The game becomes harder as you advance in levels. It will require that you be smart about it as you try to navigate. Here are some tips that can help you through.
Identify your obstacles
There are different types of obstacles that you will come across as. Some of these obstacles can easily be destroyed by ramming them with the snow plow. However, others can prove to be a tough nut to crack.
The easiest way to deal with such obstacles is to drive around them. Find a way to drive around the tough obstacles without causing an accident. It seems easy enough but it can prove to be difficult.
The game will make it harder for you to navigate the obstacles as you advance. For instance, you might experience a snow storm as you try to clear the road.
The best way to deal with such a situation is to move sideways until you find an opening. Keep moving side to side to open up new escape routes. It is guesswork but it might be the difference between you succeeding or failing.
Stay alert
The game features static and dynamic obstacles. The static obstacles are easy to deal with once you identify them. You can either ram them or drive around them.
The dynamic obstacles offer a whole new challenge. These obstacles are introduced by the game periodically. You can find obstacles such as a rolling snowball or giant objects falling from the sky.
You have to be alert to ensure that you evade these obstacles.
The Snow Plow
The snow plow is your main tool. The game will provide you with a snow plow once you start. This snow plow will work for the first levels but it will struggle as you advance.
One solution is that you get yourself a new snow plow. The best thing about this method is that you will get a new snow plow for free. You only have to watch an ad that runs for about half a minute and you will have a new snow plow.
The ad will appear as an offer after you click on the offer you will be rewarded with a snow plow. The other option involves upgrading your snow plow.
The game will ask you whether you want to upgrade your truck after you finish every level. The only expense is that you will have to watch an ad. The upgraded trucks really perform well and they are worth the seconds you will spend watching the ad.
Conclusion
Clean Road is an amazing game. The above are just a few basics to help you understand the game a bit better. In addition, the tips above will help you become better in the game.
In conclusion, the basics above will turn you into a master snow plower.
How To Play/Download Clean Road on PC
Follow the instructions below, it's really easy and it takes about 5-10 minutes to run the game.
Download Bluestacks from their official site.
Run and Install it.
Open the bluestacks app and setup your Google Play Store with your Gmail, sometime it asks for phone verification.
After that search for "Clean Road".
Click the Install button next to game icon.
When it's done, you can find and play Clean Road in "All Apps" or in "My Applications" sections.
Download Clean Road for Mobile and Tablet Devices
Google Play Store Link
Apple App Store Link
Clean Road Trailer
More Clean Road Tips Using Bluestacks
If Bluestacks don't work for you for some reason, you can try Andyroid
Sometimes when playing Clean Road, bluestacks ask you fee to pay but gives you option to download some apps. Every time it asks you just select "Install apps" and continue using it free.
You can configure your keys inside bluestacks. You can map specific key to specific location. And there is options for tilt, swipe, tap, move up/down/right/left…etc
I hope you enjoyed this article, please rate and share. If you have problems running Clean Road on your desktop or any other issues, leave a comment below.