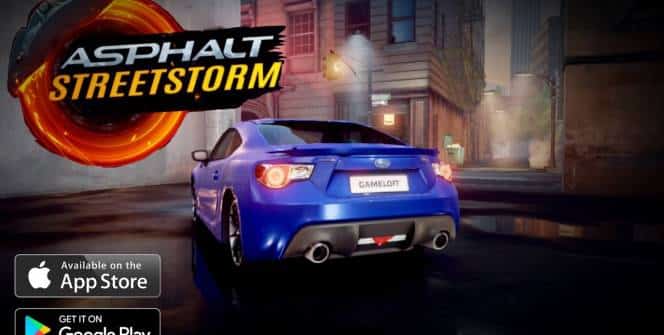 Asphalt Street Storm Racing for Windows 7/8/8.1/10/XP/Vista/MAC OS/Laptop
Asphalt: Street Storm for PC is exactly what you want from a racing game designed by Gameloft. It's nothing new to the genre which most fans will like since a drag racer with sleek looking cars is what people interested in this genre go for. If the fact that you've already experienced such a game before won't put you off then you can expect to have a great time with this title.
Gameplay
Gameplay is extremely simple. All that you have to do is get your car from point A to point B in as little time as possible without having to worry about steering or anything like that since the races are in straight lines down the street. If beating the timer isn't enough for you then you can enjoy the feel of leaving other racers in your wake instead.
Each race will pit you against up to three different racers. Single player races against AI bots are also an option but you'll probably get more enjoyment from playing against other human racers online. Races against other real-world players are initiated by you challenging them or them challenging you.
Controlling the car and getting the best out of your races is down to getting your timing right on when to hit the buttons. For example, when you're starting you have to hit the button at just the right time and you can even get a slight lead over your opponent if you get it right. Once the race has started, the race outcome will depend primarily on how good you are at shifting gears.
A rev counter at the bottom of the screen will help you decide on when you need to shift. People who've never learnt how to drive a stick in real-life will probably experience the worst of the learning curve however they'll get the hang of it soon enough. All you have to do is tap an arrow when the rev counter hits the green mark and you'll get a perfect shift.
And what would any racing game be without Nitrous Oxide? No, not laughing gas- we're talking about that boost that sends your car into overdrive for a few seconds. You've only got one chance to use it per race so use it at the right time to make the most out of it and zoom past your opponents.
The Good
Even thought the core aspects of the game stay the same throughout you do have the option of upgrading your car and unlocking new items to keep things interesting. Mixed in with the crisp and shiny graphics, you're likely to be stuck playing for longer than you expected.
The Bad
Racing in a straight line gets repetitive very fast. You get to use different cars to keep things interesting but that novelty wears off by the time the race starts.
Conclusion
Everything about this game is flash and bang right from the start. Once you get into it then even the sleek visuals start to get boring but that's the way this genre works. Asphalt: Street Storm for PC is a good game but the lack of innovation keeps it from being revolutionary.
How To Play/Download Asphalt Street Storm Racing for PC
Follow the instructions below, it's really easy and it takes about 5-10 minutes to run the game.
Download Bluestacks from their official site
Run and Install it
Open the bluestacks app and setup your Google Play Store with your gmail, sometime it asks for phone verification
After that search for "Asphalt Street Storm Racing"
Click the Install button next to game icon
When it's done, you can find and play Asphalt Street Storm Racing in "All Apps" or in "My Applications" sections
Download Asphalt Street Storm Racing for Mobile and Tablet Devices
Google Play Store Link
Apple App Store Link
Asphalt Street Storm Racing Trailer
More Asphalt Street Storm Racing Tips Using Bluestacks
If Bluestacks don't work for you for some reason, you can try Andyroid
Sometimes when playing Asphalt Street Storm Racing, bluestacks ask you fee to pay but gives you option to download some apps. Every time it asks you just select "Install apps" and continue using it free.
You can configure your keys inside bluestacks. You can map specific key to specific location. And there is options for tilt, swipe, tap, move up/down/right/left…etc
I hope you enjoyed this article, please rate and share. If you have problems running Asphalt Street Storm Racing on your desktop or any other issues, leave a comment below.