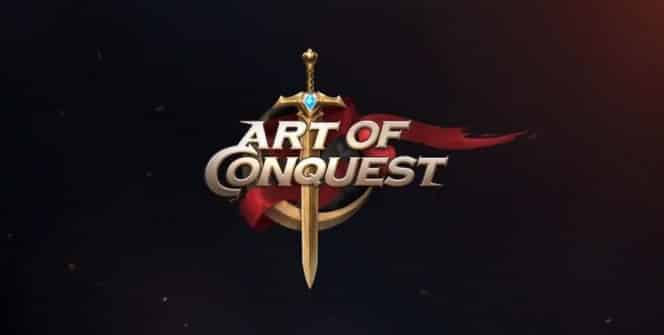 Art of Conquest for Windows 7/8/8.1/10/XP/Vista/MAC OS/Laptop
Art of Conquest for PC brings together a host of different genres. You've got RPG elements for the main gameplay, RTS to keep you interested and a touch of MMO in case you get lonely. If you're interested in any one of these or the many other genres that it employs then you're sure to love this game.
Keep in mind that most of this game is free-to-play so you shouldn't expect much in the way of a compelling story. Art of Conquest's only hook to keeping you interested is the exploration. The strange world that the developers delivered is fun to figure out while you make your kingdom larger and take down any fools who dare to get in your way.
Gameplay
The game mechanics are simple enough; you navigate across the world by tapping on on the screen. By definition it is an open world however the gameplay design makes you feel like you're on a linear path from event to event.
This wouldn't be a game of conquest without the odd battle. One-on-one combat is rare so you'll need your troops to help you win most battles which play out on a grid-like layout. Once you have your grunts lined up and heroes placed where they can do the most damage, the battle pretty much unfolds on its own.
The first few battles are very simple but as you progress through the game and your heroes get stronger you get to use a few special attacks. Most battles are against other warrior-wannabes but sometimes you'll fight the odd dragon. You have to have leveled up to stand a chance against dragons but getting to that point is half the fun.
All that is fun but but Art of Conquest for PC really makes a name for itself in Player vs. Player battles. You can deploy your troops just like you would against any other opposition however you have to work through the AI battles before you can unlock it.
The city models are another great addition to this game. Each one is controlled by a clan and while you might be tempted to try and overthrow the ruling clan it is often in your best interest to work together which is where Age of Conquest starts to feel like an MMO.
The Good
Developing your own base is a cornerstone of such games however Art of Conquest gives you more hands-on feel to building your base even though you won't have to spend much time on training and upgrades. Plus the graphics are enjoyable so they take some of the staleness out of having to build your own base.
The Bad
This game sells itself as being open world yet it has you chasing following quests on a linear path. In-app purchases will get you where you want to be faster but it's more like a cheat-code than a necessity for finishing the game.
Conclusion
Most of the elements in this game are nothing new but they come together in a way that feels fresh and unique. You won't be glued to your screen playing this game for hours but it is brilliant for quick bursts of action. You can expect to have it on your phone for a long time because you will not want to delete it.
How To Play/Download Art of Conquest for PC
Follow the instructions below, it's really easy and it takes about 5-10 minutes to run the game.
Download Bluestacks from their official site
Run and Install it
Open the bluestacks app and setup your Google Play Store with your gmail, sometime it asks for phone verification
After that search for "Art of Conquest"
Click the Install button next to game icon
When it's done, you can find and play Art of Conquest in "All Apps" or in "My Applications" sections
Download Art of Conquest for Mobile and Tablet Devices
Google Play Store Link
Apple App Store Link
Art of Conquest Trailer
More Art of Conquest Tips Using Bluestacks
If Bluestacks don't work for you for some reason, you can try Andyroid
Sometimes when playing Art of Conquest, bluestacks ask you fee to pay but gives you option to download some apps. Every time it asks you just select "Install apps" and continue using it free.
You can configure your keys inside bluestacks. You can map specific key to specific location. And there is options for tilt, swipe, tap, move up/down/right/left…etc
I hope you enjoyed this article, please rate and share. If you have problems running Art of Conquest on your desktop or any other issues, leave a comment below.